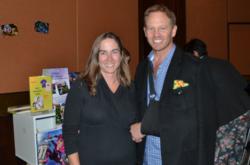 It's so nice to enter into the magical world of wonder and whimsy with flattenme - Ian Ziering, 90210 and DWTS
Hollywood, CA (PRWEB) January 21, 2013
On January 14th and 15th throngs of hard-to-impress celebrities gathered around flattenme's Margo Redfern to admire her latest, the stunningly adorable personalized t-shirts for babies and tots. Sophisticated celebs in the entertainment world think, as do parents everywhere, that their baby is the cutest and smartest. Therefore, nothing could be more appealing than their little one's face on a personalized t-shirt.
Everyone attending the elite 'by invitation only' event at the Boom Boom Room was there to celebrate the Golden Globes. Redfern, herself the mother of four, chatted with famous mom and dad celebs. In their original quest for the perfect children's personalized gift, they discovered flattenme storybooks. The delightful concept of reading a story to their child and having that child discover they are IN the story featuring their name and face has gained an immense following.
Famous parents enjoying the exclusive 'by invitation only' event included Lisa Ling, Miss J from America's Top Model, Samantha Harris from Dancing With the Stars and Nia Peeples from Pretty Little Liars. All were eager to see an example of Redfern's custom t-shirt, which is her latest brainchild. In the personalized gift genre, flattenme sells children's personalized books, water bottles, wall art, cards and journals. Each is unique with the face of the child.
Redfern, founder of flattenme, has been impacting the business world for 20 years. She has launched new products for industry giants, including Microsoft, Polaroid and Yahoo. Her own first entrepreneurial endeavor, Nuclei Group, LLC, was formed in 2000. Her newest success, flattenme, manufactures its personalized gift items right here in the USA. Orders are shipped to all parts of the planet.
Now, the custom t-shirt bursts onto the scene. Trendy and innovative, this personalized gift is currently available exclusively to celebs. But, no need to despair. As of February 15th every mommy in America and around the world will be eligible to order a personalized t-shirt for their own precocious little darling. Flattenme, that most popular purveyor of children's personalized gift items will offer them to the general public. Your little one can wear a custom t-shirt or onesie featuring your little one's sweet face. Mommies and Grammys, you may be impatient at the delay. But, as you are waiting, keep snapping those new pics till you have the perfect smile for baby's custom t-shirt.
And, speaking of 'waiting', well-known actor Ian Ziering and wife Erin await the birth of their second baby girl. Daughter Mia is no stranger to flattenme personalized gifts. Ziering, who captivated audiences for a decade starring as Steve Sanders on Beverly Hills 90210, is a fan of flattenme personalized books. No doubt the personalized t-shirt will be the newest trend. According to Ziering it's "so nice to enter into the magical world of wonder and whimsy with flattenme".
#####
flattenme is located at 10550 Filoli Dr. in Truckee, California. For further information, you can visit the website at http://www.flattenme.com or contact Margo Redfern at
margo(at)flattenme(dot)com or 415-845-9090.