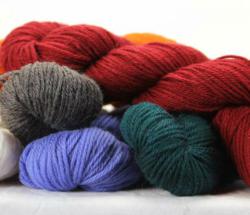 Cascade will be bringing a wild assortment of knitting yarn for guests to try at the yarn tasting which is a free event to knitters.
Spokane, WA (PRWEB) January 18, 2013
Saturday January 19th Cascade Yarn will be at Paradise Fibers in Spokane for the annual Cascade Yarns "Yarn Tasting". Knitters can get 20% off all Cascade Yarns all day Saturday. What exactly is yarn tasting at Paradise Fibers? It's basically a large gathering of knitters who get together and try new yarns to see how they knit up and experience the yarn texture first hand.
Cliff Langin from Cascade Yarns will be hosting and bringing prizes and new knitting and weaving yarns to try from Cascade. Cascade will also be bringing a host of finished garments made from various yarns to try on. This is one of the largest knitting parties of the year held at Paradise Fibers complete with snacks, door prizes weaving and knitting demonstrations and a knitting yarn raffle.
Instructors from Paradise Fibers are on hand for tech help and to help show off some of the newly released yarns. New cotton yarn, wool yarn as well as acrylics wool blends are showcased.
Although this is a free event, RSVP guarantees a seat for yarn tasting. The yarn tasting event starts at 1pm on Saturday and ends at 3pm.
Paradise Fibers has been in business since 1995. The company is family owned and operated and consists of a variety of Romine family members young and old with a sprinkle of dedicated fiber junkies and stunt men.
Contact:
Travis Romine - The Captain
info at paradisefibers.com
http://www.paradisefibers.com
225 W Indiana
Spokane, WA 99205
(509) 536-7746