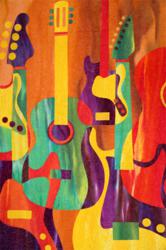 Enjoy discovering the completely different artistic styles of these beautiful quilts. A must-see exhibit now on display at the AccuQuilt Gallery.
Omaha, NE (PRWEB) January 22, 2013
Once again the AccuQuilt Gallery is hosting an event that showcases some of the smartest talent in the quilting community. The "Quilts with a Contemporary and Modern Feel" brings together three quilters from the Chicago area, Robbi Joy Eklow, Bill Kerr and Laura Wasilowski.
Each artist offers quilts created with a style and execution that embraces contemporary art and modern quilt aesthetics. Each offers a unique, expressive style that is sure to wow audiences with color, shape, and technique.
The exhibition will be on display from January 16 through March 15 at the AccuQuilt Omaha headquarters at 8843 S 137th Circle (near Cabela's®, off Interstate 80). Visitors can view this stunning selection of showcased quilts by Eklow, Kerr and Wasilowski, and can tour AccuQuilt's Dream Studio and offices by calling 888.258.7913 or visiting http://www.accuquilt.com/tours for more information.
About the artists:
Robbi Joy Eklow:
Robbi describes her quilting style as a combination of the traditional and contemporary. Robbi lectures and teaches internationally, and has shown quilts and won ribbons in major quilt shows. She writes a bi-monthly column "Goddess of the Last Minute" for Quilting Arts Magazine. In addition she has written articles for many quilting publications and her work has been published in several major quilt publications. Look for her books: Free Expression: The Art and Confessions of a Contemporary Quilter and Goddess of the last Minute.
Bill Kerr:
Bill Kerr is an artist, quilter, author, and fabric designer. Owner of Modern Quilt Studio, a design studio, originally founded as FunQuilts in 1999 Bill infuses creativity into every part of his stitching every custom quilt with a keen eye for design and color. His focus is to keep his work fresh, modern and visually inspirational. Kerr has a graduate degree in design and leads workshops on design for quilt makers nationally and internationally helping quilters find their own voice.
Laura Wasilowski:
Laura Wasilowski is both contemporary quilt maker and creator of hand-dyed fabrics and threads. Whimsical is a word that describes her art work. Her pictorial art quilts (created from fused fabrics and hand-embroidered or machine quilted) are collected and exhibited internationally. Owner of the dye shop, Artfabrik, Laura is also a lecturer, surface designer, quilt instructor, pattern designer, and author of Fusing Fun and Fuse-and-Tell. She has exhibited in this country, The Netherlands, Spain, and Japan and her work has appeared in numerous publications.
About AccuQuilt – Better Cuts Make Better Quilts®
Headquartered in Omaha, Neb., AccuQuilt offers quilters, fabric crafters and retailers a premiere line of fabric cutters, dies, quilting patterns and other quilt and fabric cutting solutions that help quilters quickly and accurately cut shapes for quilting and fabric crafts. AccuQuilt also offers quilters a wide variety of rich educational resources to enhance their quilting experiences. Cutting with AccuQuilt cutters is a natural evolution of fabric cutting methods. "First scissors…then rotary…finally…AccuQuilt®" for fast, easy, accurate fabric cutting.
AccuQuilt GO!® dies, as well as the GO! Baby® Fabric Cutter and GO!® Fabric Cutter, are available at local quilt and fabric retailers. Quilters also can purchase GO! fabric cutters and dies, along with the Studio™ Fabric Cutter, GO! die adapters and hundreds of Studio™ quilting dies, by visiting accuquilt.com or calling 888.258.7913.