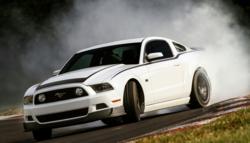 I am pumped to be working with Nitto Tire! It feels great to be aligned with a brand that is committed to winning and progression
Cypress. Calif. (PRWEB) January 22, 2013
Nitto Tire, a leading producer of high performance tires, announced a new partnership with Formula Drift Champion Vaughn Gittin Jr. Nitto Tire has its roots in the enthusiast community and the sponsorship of Gittin Jr., a self-taught drift extraordinaire, is a perfect match. Vaughn is one of Monster Energy's premier athletes and a Ford factory driver. He is an icon of the sport of drifting, having competed every year since the existence of Formula DRIFT, dating all the way back to 2004. Gittin Jr. will also represent Nitto Tire in China's World Drift Series and make appearances at a variety of exhibitions worldwide.
Vaughn Gittin Jr. stated, "I am pumped to be working with Nitto Tire! As I enter this new chapter of my career, it feels great to be aligned with a brand that is committed to winning and progression, just as I am. I have always been focused on working just as hard off the track as I do on it, and Nitto's innovative marketing efforts and awesome tires will complement that well. It is very clear that our overall passion and future goals align perfectly, and I could not be happier with what the future has to offer surrounding this partnership."
Gittin's Monster Energy Nitto Tire Ford Mustang RTR will be running the NT05 max-performance tire. During the off-season Vaughn Gittin Jr., and his team at ASD thoroughly tested this platform and feel confident that it will provide them with a competitive edge.
"Through testing, we found the Nitto NT05 offers a high level of consistent grip through all temperature ranges, and that the high quality construction of the tire allows it to handle excessive abuse – both qualities of which are crucial for drifting," said Vaughn Gittin Jr.
Harry Kong, Marketing & Social Media Strategist at Nitto Tire, stated "Vaughn has proven himself to be an incredible driver and champion, and Nitto is looking forward to partnering with him for the upcoming 2013 drifting season. The Monster Energy Ford Mustang RTR running NT05 tires will be an exciting combination."
The first opportunity to see Gittin Jr., drifting on NT05 tires will take place at the St. Louis Auto Show between January 24 and 27, 2013 where he will be doing an exhibition and offering fans his famous ride-alongs.
Check out Nitto Tire on Facebook: http://www.facebook.com/NittoTire
Follow Nitto Tire on Twitter: @NittoTire
About Nitto Tire
Nitto Tire (http://www.nittotire.com) develops performance tires for all uses, including racing, off-road and street. Using state-of-the-art manufacturing and testing facilities in both Japan and the United States – Nitto provides innovative and high-quality performance tires for the most demanding automotive enthusiasts. For more information about Nitto or its products, visit the company's web site or contact the company directly. Nitto is a registered trademark of Nitto Tire U.S.A. Inc., located at 5665 Plaza Drive, Ste. 250, Cypress, Calif., 90630.
###