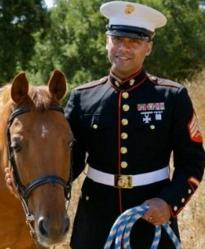 I was surprised that he even noticed my campaign and I am grateful for his show of support and for believing in me
San Bruno, CA (PRWEB) January 21, 2013
Jarom Vahai, 2011 California Veteran of the Year, is researching the startling mathematical connections between pyramids and Stonehenge. With a new fundraising campaign, he hopes to raise enough money to write a book about his discoveries, which show a likely link between these ancient mysteries and modern GPS devices.
Vahai captured the attention of a Stanford University Honors Research Symposium audience last year when he presented his findings, including a complex mathematical formula that shows ancient civilizations used pyramids and structures like Stonehenge to tell time and global positioning. He also caught the attention of Craigslist founder Craig Newmark, who recently made a generous donation to his Ancient GPS campaign on Indiegogo.
"I was surprised that he even noticed my campaign and I am grateful for his show of support and for believing in me," Vahai said. "Craig has done so much for veterans here in the Bay Area. He is always giving to veterans. If you're reading this, thanks again Craig!"
Due to injuries suffered during the war, Vahai needs assistance to write his book. With just under 90 days left to go in Vahai's campaign, the disabled military veteran is trying to raise enough money to support his research, as well as the charity he founded that helps veterans find jobs: GC4V Jobs for Veterans.
"I'm grateful for the many donations I receive that allow me to give back to the veterans who have honorably fought for the safety and freedom of all Americans," said Vahai. "It's very rewarding to provide ongoing services that benefit both veterans and the employers that hire them."
Vahai has shown once again that military veterans have tremendous skills that can be applied in countless ways, making veterans a valued resource for potential employers. The proceeds of his book will be donated entirely to furthering the progress of his "jobs for veterans" mission.
"It is my hope that the book will not only shed light on the mysteries of the pyramids, but that it will inspire other veterans to pursue new goals, chase new dreams and continue pushing forward despite how hard it is after the war," explained Vahai, who survived being blown up five times in battle.
It was Vahai's own experiences serving two consecutive tours during the Iraq War that fueled his curiosity. His experience with land navigation and antenna construction sparked the beginnings of his calculations.
Vahai focused his energy on the pyramids and Stonehenge, and realized that they had many qualities that would serve for navigation. His most startling discovery was when he applied the 'antenna theory.'
When he tested his theories using Google Earth satellite imagery, Vahai was astonished to find that the ancient structures aligned with each other across thousands of miles. In an attempt to prove his own findings wrong, he discovered over one hundred alignments between ancient sites using Google Earth, and continues to discover more.
Vahai is so confident in his Ancient GPS theories that he tried to debunk them himself.
"I tried to find a flaw in my findings but when I plotted a course from Teotihuacan in Mexico and it pointed to China, I thought I would debunk my own theory – only to find out that there were, in fact, pyramids in China," said Vahai.
To learn more about Vahai's findings, or to donate to his cause, visit his indiegogo campaign here. Vahai has posted some interesting video presentations of his alignments, as well as other theories that explain where 360 degrees came from, some fascinating insights into where the mile may have originated from, and many other discoveries.