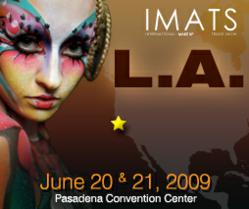 Pasadena, CA (PRWEB) January 21, 2013
The IMATS (International Make-Up Artist Trade Show) is currently in in full swing. The Pasadena Convention Center sprung to life today with the newest beauty and cosmetic solutions. Over 100 companies are set to exhibit 2013's first IMATS show. This exclusive event is expected to bring in thousands of the world's leading make-up artists.
With a New Year comes new trends. One of the more popular exhibitors, NaiLuv, is featuring their newest additions to their special collection of gel nail polishes. Known for their colors and quality polishes; NaiLuv, is fast becoming one of the most popular nail polish companies. With names like Mr. Valentine and the Bridal Collection, these collections are set to be one of the biggest hits of the New Year. Also in their lineup is their all new, time saving 6watt LED gel curing lamp.
LASHEM is a world renowned total beauty solutions company that has been providing natural, safe, and effective products to salons and spas for years. Their lash gel is clinically tested and 100% safe on the eyes. Lashem's Picture Perfect Anti-Wrinkle cream works instantly to give your skin a more youthful look, without using any harmful ingredients.
Make sure to visit the Measurable Difference booth to check out their new instant tummy tuck product. Lipo Lotion. This remarkable creation is designed to instantly tuck and tone loose ends around your body. Lab developed and specially formulated, this product is 100% safe and natural.
With over 100 companies exhibiting new products, styles, and trends there's something for everyone in this extravagant expo. Being this is also the 100th anniversary of MAKE-UP ARTIST magazine, the weekends' festivities will feature the unveiling of a new creation by master make-up artist Kazuhiro Tsuji.