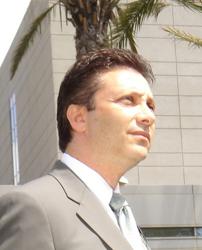 "Cross-border business opportunities are the key to 21st Century manufacturing and distribution," said Schneider. "We see greater economic development in regional markets by forming international ventures that combine the strengths of companies and their
NANJING, People's Republic of China (PRWEB) January 19, 2013
Steve M. Schneider leads international growth efforts for multi-billion dollar manufacturing conglomerate.
China manufacturing conglomerate Jiangsu Tianyi Industrial Group Co., Ltd. has appointed Mr. Steve M. Schneider as President of its International and US divisions to expand operations and promote economic development initiatives by focusing on cross-border relationships in new markets. An inauguration and welcoming ceremony are scheduled on February 1 at Tianyi Group's headquarters in China.
A 35-year California based business executive, Schneider has a diverse background in international business, particularly US-China relations, automotive industry, mergers and acquisitions and green technologies. Doing business in China for over a decade he developed a friendship with Tianyi Group Founder Jiang Guobei, becoming a close advisor for his experience in cross-border mergers and acquisitions.
"This is a natural fit," said Mr. Jiang. "I have complete faith in Steve Schneider's ability as President of Tianyi Group with his unique experience forming cross-border businesses in the US and China. He has broad authority in the direction of our mergers and acquisitions and I believe he will be a catalyst for the international evolution of Tianyi Group."
Schneider brings a business background to Tianyi Group in management, finance and marketing. Since 2002 has been focused on Asian markets, notably China, Japan and South Korea, in addition to developing business relations in Europe, the Middle East, North and South America.
"Cross-border business opportunities are the key to 21st Century manufacturing and distribution," said Schneider. "We see greater economic development in regional markets by forming international ventures that combine the strengths of companies and their respective nations to improve products and services."
Schneider has an extensive background in mergers and acquisitions. In 2011 he successfully brokered a $60 million acquisition of a Chinese automaker, the first acquisition of a China automaker by a foreign business in a deal that required approval of the Chinese provincial government. Schneider says it took several years to arrange the 51 percent majority acquisition of Jonway Automobile by publicly owned ZAP of the USA. As CEO of ZAP Schneider helped raise nearly $1 billion from several of his successful businesses at the same time successfully listing ZAP on the NYSE. Recently Schneider completed the acquisition of an advanced electric car design called Aptera with Jonway Group. In 2008 Schneider arranged the acquisition of Detroit Electric, the most popular electric car of the early 1900s. In 2004 he acquired the Electric Transportation Company, a developer of electric vehicles.
Widely recognized for his leadership in green technologies including the market development of electric and other fuel-efficient cars, Schneider first imported Volkswagen bugs from Mexico in 1998 by making electric versions in partnership with Volkswagen of Mexico. He was instrumental in importing the first legal high-MPG Smart Cars from Europe to the United States in 2005. Schneider's education and early career in the automotive industry include positions with specialty and fuel efficient automobiles offered by Honda, VW, Renault, Ford, Smart and DeLorean.
Schneider has served on the board of directors for a number of energy and manufacturing companies. In 2010, he became a member of the Bay Area Council, a service organization of business leaders committed to promoting the health and well being of the Bay Area with a focus on building the economic relationships with China. Currently, he is Chairman of Auto Distributors Inc. an international new energy vehicle distribution company as well as Vice Chairman of Samyang Optics. Co., LTD of South Korea. Schneider was appointed a Senior Advisor for Economic Development to Hangzhou, one of China's "Innovation Zones."
About Tianyi Group
Established in January 2001, privately owned Jiangsu Tianyi Industrial Group Co., Ltd. has 6 subsidiaries and 28 affiliates. Tianyi's business includes international and domestic trade, industrial entities, commercial land properties, real estate development, insurance, and property management. Its 28 affiliates are distributed in various provincial capitals throughout China. Based on 2009 figures Tianyi Group has estimated assets over 2.6 billion yuan or US$417 million, a figured believed to have grown exponentially into the billions of US dollars today. Learn more about Tianyi Group at http://www.tianyiusa.com.