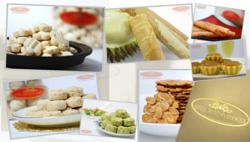 We yield to satisfy and delight our followers with the best flavors at the most reasonable prices. Little Nonya's Cookies has to be the ubiquitous brand every Chinese New Year
Singapore, Singapore (PRWEB) January 23, 2013
Catching up with friends and relatives in the accompaniment of good food and festive snacks are traditionally the fun ways to spend Lunar New Year. With their bestsellers, LNC adds more fun to the occasion by sharing tried and tested game ideas:

Money Egg Roll - Chow down 5 Money Egg Rolls the horizontal way, cleanest plate wins.
Lucky Almond - Pop as many Lucky Almond as possible at one go, biggest popper wins.
Happy Kueh Bangkit - In 10 seconds, snack on the Kueh Bangkit in abundance, fastest eater wins.
To add more choices to the menu, Little Nonya's Cookies took time to hand-pick two new items – the Durian King Roll and Charcoal Gold Roll. The Little Nonya's give a solid "no" to using fruit essence in any of their products; only authentic D24 real durian pulp makes its way to the kitchens and is whipped into these flavorful Durian King Rolls.
The other new addition contains detoxification effects; the Charcoal Gold Roll. Charcoal is known to adsorb more toxins than any other substance in the human body. Take charcoal pills for example; they are commonly taken to treat stomach discomforts and poisoning or drug overdose. Enjoy yummy snacks without risking health.
Despite sell-outs every year, Little Nonya's Cookies believe this is a season of giving and joy-sharing. Thus, LNC sets aside enough stocks to be donated to a selected charity organization.
Full Little Nonya Menu:
o Prosperity Pineapple Pie
o Blossom Pineapple Tarts
o Lucky Almonds
o Fortune Peanut
o Vibrant Green Pea
o Joyous Cranberries Oatmeal
o Happy Kueh Bangkit
o Super Shrimp Rolls
o Success Chocolate Rice
o Money Egg Roll
o Durian King Roll
o Charcoal Gold Roll
o Golden Pumpkin Seed
o Blissful Almond Crisp
o ChickChick Floss
o Abundance Cornflakes
Locate your favorite Little Nonya's Cookies at Takashimaya, Raffles X'change, Bugis Junction, Parkway Parade and Century Square.
"We yield to satisfy and delight our followers with the best flavors at the most reasonable prices. Little Nonya's Cookies has to be the ubiquitous brand every Chinese New Year," founder Mr Anthony Tan affirms.
Visit http://www.littlenonyacookies.com for full cookies menu and online order.
For media enquiries, please contact:
Anthony Tan, Founder
Tel: 6396 8316 Hp: 8388 0068
For distribution enquiries or Digital PR information, please contact Alvin Sim at Conversion Hub Marketing on +65 6844 3935
About Conversion Hub Marketing
Conversion Hub Marketing is an approved S6 Government vendor for projects up to $3 million and serves as Digital Advisor to the Direct Marketing Association of Singapore (DMAS). Conversion Hub delivers world-class online PR, social media marketing and search engine marketing solutions based on the premise of performance excellence and long-lasting results. Leveraging on their exclusive network of over 30 million social profiles and 25 thousand media points, we are the only agency to offer performance guarantees across all our marketing channels. Headquartered in Singapore, Conversion Hub combines a decade of digital experience in online sustainability and marketing expertise, serving brands and government institutions such as Philips, Bayer, Microsoft, SingTel, National Heritage Board, Prime Minister Office, Public Service Commission, National University of Singapore and many others. For more information, visit http://www.conversion-hub.com