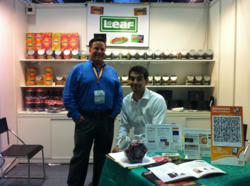 More demand for Leaf products will contribute to the state's economy as the thriving confectionery continues to grow." "Along with this growth we will undoubtedly be adding staff, which will mean new jobs."
Newport Coast, CA (PRWEB) January 22, 2013
Leaf Brands® today announced it will be exhibiting at the ISM show in Cologne Germany, the world's biggest confectionery trade fair.
Leaf Brands, LLC, one of the most innovative candy companies in the US will be exhibiting at the ISM Confectionery trade fair in Cologne, Germany from January 27th through January 30th. As part of a small group of US candy companies, Leaf's booth will be located in the United States Pavilion, hall 10.2, booth number E72. "The demand internationally for Leaf's products such as Astro Pops®, Farts Candy®, Sour Spanks!™ and David's Signature Beyond Gourmet® has been so incredible, we felt we had to have our company represented at the largest confectionery trade show in the world!" Says Ellia Kassoff, Leaf Brands, CEO. "Each week we field inquiries from around the world, so what better way to meet many of our prospective clients then at the show?" Kassoff continues.
ISM refers to International Sweets World and boasts over 35,000 visitors with over 1450 vendors from around the world. ISM is the largest and most important sweets and biscuits fair in the world. Every year the international sector meets to introduce discover and discuss the latest trends, the newest products and the most up-to-dates perspectives.
The entire global market is reflected an ISM's range of products, which is broader than that of any other comparable trade fair. All of the relevant target groups in the world of confectionery are brought together at the show. Small, medium-sized and market-leading suppliers make direct contact with the global trade to fulfill the needs of tomorrow's customers with innovative ideas, creations and concepts. And that ensures a profitable future for suppliers and customers alike.
Among the countries importing Leaf Brand's candy are Europe, Australia, Nigeria, Russia, Hong Kong, Kenya, Lebanon, Israel, Pakistan, and Mainland China.
"These new international channels will help create economic roots here in California, where we're located." According to Mr. Kassoff, "More demand for Leaf products will contribute to the state's economy as the thriving confectionery continues to grow." "Along with this growth we will undoubtedly be adding staff, which will mean new jobs."
About Leaf Brands®, LLC: The original LEAF Brands® were started in the 1920's. LEAF Brands, once the fourth largest candy producer in North America, produced candy classics such as Whoppers®, Jolly Rancher® and Rain Blo Bubblegum®, which were later sold to Hershey Chocolate & Confectionery Corporation in the late 1990's. Family members have acquired the LEAF brand name for the US, and assembled together to revive the Leaf name and its famous image. Products include Astro Pops®, Yummers!®, Farts Candy® and David's Signature Beyond Gourmet® products.
For additional information, contact:
Caleb Akey
caleb(at)leafbrands(dot)com
http://www.leafbrands.com
(949) 300 8223