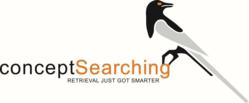 Ken has tremendous respect within the DoD sector and possesses superior industry knowledge and technical expertise, which will enable him to develop Concept Searching's reputation in the defense industry.
McLean, VA (PRWEB) January 22, 2013
Concept Searching, a global leader in semantic metadata generation, auto-classification, and taxonomy management software, and developer of the Smart Content Framework™, is pleased to announce that Ken Lemons has joined the team as Department of Defense (DoD) Director, Business Development. The addition of Ken Lemons to the team will provide additional expertise to manage Concept Searching's rapid growth in the US federal market, specifically within the US DoD.
"We are extremely pleased to have someone with Ken's expertise join our team," said Martin Garland, President of Concept Searching. "Ken has tremendous respect within the DoD sector and possesses superior industry knowledge and technical expertise, which will enable him to develop Concept Searching's reputation in the defense industry. His clear understanding of the value of intelligent metadata in driving policy and process made Ken a natural fit with Concept Searching. Adding Ken to our team illustrates our vision and commitment to further increase our notable growth in this sector."
Ken comes to Concept Searching with over 25 years in the IT industry, with a proven track record in consulting, solutions delivery, sales and project management in the federal sector. He has spent many years managing Microsoft consulting practices for several US government integrators latterly as Vice President of Business Development for Air Force and DoD programs. Ken's experience with Microsoft technologies is very current and includes SharePoint and Dynamics, and he has also provided US DoD agencies with guidance on best practices, technical advice, and solutions to address a wide range of business challenges leveraging a combination of Microsoft and third party technology solutions. Previous client work has included the Pentagon, the Air Force Medical Service, and most of the Major Commands.
"I am excited to be joining the Concept Searching team," said Ken. "I am looking forward to helping Concept Searching's federal clients maximize the value and capability of their technology investments, to drive efficiencies within areas such as search, records management, data privacy, text analytics and risk management. I am happy that my DoD experience coupled with Concept Searching's Intelligent metadata enabled solutions portfolio will help further develop an already established presence in the US intelligence and defense market."
Follow Concept Searching: http://www.twitter.com/conceptsearch
About Concept Searching
Founded in 2002, Concept Searching provides software products that deliver conceptual metadata generation, auto-classification, and powerful taxonomy management from the desktop to the enterprise. Concept Searching, developer of the Smart Content Framework™, provides organizations with a method to mitigate risk, automate processes, manage information, protect privacy, and address compliance issues. This infrastructure framework utilizes a set of technologies that encompasses the entire portfolio of unstructured information assets, resulting in increased organizational performance and agility.
Concept Searching is the only platform independent statistical metadata generation and classification software company in the world that uses concept extraction and compound term processing to significantly improve access to unstructured information. The Concept Searching Microsoft suite of technologies runs natively in SharePoint 2007, SharePoint 2010, SharePoint 2013, FAST, Windows Server 2008 R2 FCI, Office 365, and in Microsoft Office applications.
The building blocks of Concept Searching's Smart Content Framework™ are being used by organizations from a diverse number of industries including the US Army, the US Air Force, the UK MOD, Baker Hughes, DAI, Deloitte, Logica, NASA Safety Center, OppenheimerFunds, Point B, Perkins+Will, Parsons Brinckerhoff, Burns & McDonnell, MarketResearch.com, the US Department of Health & Human Services, Transport for London, the London Fire Brigade, the National Transportation Safety Board, and Xerox.
Headquartered in the US with offices in the UK, South Africa and Canada, Concept Searching solves the problem of finding, organizing, and managing information capital far beyond search and retrieval. The technologies are being used to improve search outcomes, enable effective records management, identify and secure sensitive information, improve governance and compliance, add structure to Enterprise 2.0, facilitate eDiscovery, and drive intelligent migration. For more information about Concept Searching's solutions and technologies please visit http://www.conceptsearching.com.
All product and company names herein may be trademarks of their respective owners.