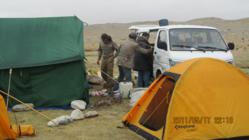 Tingri to Everest Base Camp trek is more than off-the-beaten-trek in Tibet.
Springfild, Missouri (PRWEB) January 21, 2013
Tibet travel agent, Tibet Ctrip Travel Service-TCTS (http://www.tibetctrip.com) has been improving its Tibet treks and now offers vehicle support for the Old Tingri to Mt. Everest Base Camp trek. No longer will travel groups have to rely on yaks to transport their equipment. Using a vehicle to transport equipment provides more convenience and flexibility, after breakfast trekkers are free to set out while their Tibetan drivers break down camp and continue on to the next one. No need to worry about setting up tents when you're exhausted after a long day's hike. Just sit back relax and enjoy the mountain scenery.
High up in the Himalayas, it isn't uncommon to suffer from altitude sickness. In some cases hikers may wake up in the morning still exhausted and have a splitting headache. On a Tibet trek at this altitude, it's not a good idea for one to over exert themselves. With vehicle support on the hike to Mt. Everest Base Camp, it is possible to take extra time to rest by riding with the Tibetan driver for part of the day's hike. Not only can this can help prevent serious altitude sickness but it also allows less seasoned trekkers to participate as well.
This trek can place serious demands on a traveler's body. This is why it is important to eat well before, during, and after your trek. Tibet Ctrip Travel Service's mountain cooks understand this and having a vehicle allows them to be much better prepared. Trekkers need to be sure to let their Tibet travel agent know what kind of food they like and whether or not they have special dietary needs. The trek to Mt. Everest Base Camp has the potential to be extremely exhausting and there's little that compares to arriving at camp to a hot Tibetan meal shielded from the brisk mountain wind.
Vehicle support on the trek provides an unprecedented level of flexibility and convenience without sacrificing the experience of being amongst some of the most majestic mountains on Earth. While yaks may be big and cute, most Tibet travel reviews would agree that having vehicle support is far superior to hanging out with a gigantic hairy animal! Trekking to Mt. Everest Base Camp is much easier than most would expect: wake up and eat breakfast, set out for the day, arrive at camp to tents set up and food being cooked. It's certainly an experience that most any traveler won't forget.
For the most up to date information, contact Tony at TCTS. Devin Moore authored this article; Devin is a Tibet travel enthusiast who is training to become an econometrician. You can get to know Devin at http://www.devinkmoore.com.