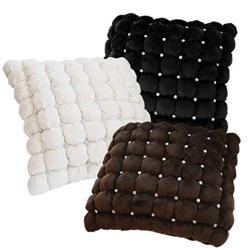 One of the good things about these cushions is that they are simple in design, even though they create a strong visual impact
(PRWEB) January 22, 2013
Expanding their range, Contemporary Heaven has added some new styles of modern cushions and contemporary rugs from the popular American designer brand Dreamweavers. The newest additions include a shimmer rug or cushion in a black, chocolate or chrome metallic fabric and the colourful Executive brown or red cushion, which is made to look like a hundred bow ties are stitched on the front.
The Shimmer range features longer fibres than previous cushions from Dreamweavers, giving the Shimmer range a much more plush appearance. With a metallic quality to the colours and big sewn pockets giving the cushion or rug a three dimensional look, Shimmer has a very modern luxury appearance. Each of the pockets has been hand sewn, with each cushion having hundreds of pockets. The overall design of this range is very similar to the pebble range, another option stocked by Contemporary Heaven. One of the good things about these cushions is that they are simple in design, even though they create a strong visual impact, allowing them to blend with many styles of décor without taking all of the attention away from other features of the room.
The Executive cushions are a funky combination of patterned fabrics, which are sewn together on the top of the cushion in long pockets. With dense pockets in either brown hues or red hues, the cushion looks like many bowties have been attached to it. A soft and velvety fabric covers the back of the cushion, making it very tactile as well as visually amazing. These could be placed in a fairly simple room with minimalist design, with a few other features placed about the room so that the cushions don't take over. On the other hand, a traditional room with similar colours and a minimum of contrasting patterns would suit the Executive cushions very well.
And finally, the jewel in the crown of Dreamweavers soft home, the Swarovski cushion. Available in off white, black and coffee, these amazing cushions are the ultimate luxury with each cushion sporting forty-nine Swarovski crystals. It's an unusual addition to a cushion and that's what makes Dreamweavers soft home stand out – the originality of their designs. Made to be a statement piece, the Swarovski cushions are the epitome of understated elegance.
Dreamweavers soft home produces some very iconic styles, the most popular of which is the pebble design. Whether on a cushion or a rug, the pebble design is spectacular to behold with hand sewn padded pockets of soft velveteen fabric creating depth and intricacy. The fabric used, named chamois by Dreamweavers, is incredibly soft since it is normally used for the production of children's toys. Each rug is a very labour intensive work of soft home art, since a five foot by seven foot rug incorporates 2400 individual pebbles and each one is hand stitched.
Contemporary Heaven stocks a wide range of these unique cushions and rugs, in addition to faux fur cushions and throws from Katrina Hampton, genuine Australian sheep skin rugs and cushions from Auskin, Nourison rugs and Kandinsky styled rugs or cushions from Zaida.
About the Company
Contemporary Heaven is a Hertfordshire based retailer and manufacturer with online outlets in the UK, Holland, France, Germany, Poland and the US. They are a subsidiary of Roco Verre LTD which has been in existence for more than 15 years, supplying a range of home accessories to retailers, businesses and individuals. Their range of home accessories includes modern clocks, custom time zone clocks, personalised school clocks, coasters and placemats, unusual wall mirrors, storage solutions, contemporary lighting, bathroom accessories, barware and much more.
For more information, visit http://www.contemporaryheaven.co.uk.
Contact Details:
Roco Verre Ltd
Contemporary Heaven Division
68 Wilbury Way
Hitchin
Herts
Ph.: 44 (0)1462 451199