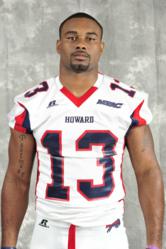 "Keith exemplifies the qualities we look for in the award winner," said East-West Shrine Game executive director, Harold Richardson. "From the hospital visit through practice, he has conducted himself in a way we believe Pat Tillman would be proud."
(PRWEB) January 20, 2013
Keith Pough, linebacker for Howard University, was awarded the Pat Tillman Award at the East-West Shrine Game® banquet Friday evening. The award is presented annually to the player who demonstrates courage, perseverance and talent throughout the week leading up to the game and recognizes his overall achievements and conduct.
"Keith exemplifies the qualities we look for in the award winner," said East-West Shrine Game executive director, Harold Richardson. "From the hospital visit through practice, he has conducted himself in a way we believe Pat Tillman would be proud."
"He first caught our attention at the visit to Shriners Hospitals for Children – Tampa last Sunday. You could see that he had a great time coloring, dancing and playing with the kids," said West team manager, Andy Strickland.
"From day one at practice, he's been a very vocal leader, encouraging and supporting his teammates on both defense and offense," said West team head coach, Leeman Bennett. "He gives tremendous effort on every play and has shown great toughness. He's the kind of player coaches like to have on the field."
Pough, a 6'3", 235-pound linebacker, finished his career at Howard as the all-time career leader in tackles for losses for in the FCS. For his efforts, he earned MEAC Defensive Player of the Year. Pough is the first player in Howard history to be selected to participate in the East-West Shrine Game, the oldest college football all-star game.
Pough also earned the Pigskin Club of Washington College Player of the Year and the Frank. P. Bolden Award
"It's a blessing and an honor to win this award that holds Pat Tillman's name. He stood for honor, integrity, and sacrifice; those things mean everything to me," said Pough. "The visit to Shriners Hospitals for Children showed me why this is more than just a game and really motivated me to work harder this week. This has been an unforgettable experience."
About the East-West Shrine Game
The East-West Shrine Game is the longest-running college all-star football game in the country and features some of the highest-rated players in the projected NFL draft ranking. While the teams are divided by East and West, the players come together for the beneficiary of the event, Shriners Hospitals for Children.
About Shriners Hospitals for Children
Shriners Hospitals for Children is changing lives every day through innovative pediatric specialty care, world-class research and outstanding medical education. The 22 hospitals in the United States, Canada and Mexico provide advanced care for children with orthopaedic conditions, burns, spinal cord injuries, and cleft lip and palate.
Shriners Hospitals for Children is a 501(c)(3) nonprofit organization and relies on the generosity of donors. All donations are tax deductible to the fullest extent permitted by law. To learn more about Shriners Hospitals for Children, please visit http://www.shrinershospitalsforchildren.org.