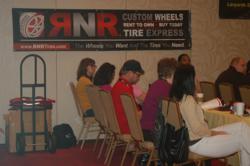 "People really leave the conference excited and motivated to go back to their stores and implement some of the things that they've learned," says Mr. Sutton
Tampa, Florida (PRWEB) January 23, 2013
On January 14, 2013, RNR franchisees from all over the country converged at the Renaissance Tampa International Plaza Hotel in Tampa, Florida, for 2 days to talk, to share, and to see what each of the other franchisees are up to in their respective regions. For David Harrison, a franchisee in Arkansas, this annual meeting is "a time to share ideas and experiences with like-minded people—people who share the same struggles and the same dreams."
So, what was this annual meeting all about? What are the benefits of having this sort of meeting, not just for the franchisees but for the franchisor? For Larry Sutton, President and Founder of RNR, he sees these meetings as a way to strengthen their system by bringing all the different franchisees together to share ideas and best practices, and to motivate and empower each other. "We really get input from everyone. Seventy-percent or more of the conference is discussion and sharing. People share ads that have worked well for them, new services that they've seen real growth from, and they share information about new suppliers that they've found. People really leave the conference excited and motivated to go back to their stores and implement some of the things that they've learned," says Mr. Sutton.
When he began these meetings 10 years ago, Larry Sutton had 4 or 5 franchisees, and since then the business has grown to 13 franchisees and 67 RNR stores in 22 states (that's up from 59 stores just last year). Several more franchise stores are currently under construction, and more corporate stores are set to open as well. Mr. Sutton hopes to see the number of stores grow by 10 or 12 in 2013, and is confident that they'll hit the 100 mark in the next 4 years. With each year, the need for a meeting like the one planned for January becomes more important. Each franchisee brings something new and interesting to the table, and the sharing of those ideas, practices and every day advice is vital to the continued growth of each and every store.
John Armatas of The Franchise Sales Solution sees these sorts of meetings as an important step for a growing franchise. "The meetings are really workshop driven," says John, "and can be really beneficial, even to a franchise with only 4 or 5 franchisees." John sees these meetings as a time for fellowship and strengthening the respective franchise system. Franchisee, Larry Carrico, agrees. When asked what he gets out of these meetings, specifically, he replied, "Typically there are several new ideas presented. Last year's best of the best was to focus on tire rentals and allocate substantial marketing dollars there. We saw the success of several dealers and we all wanted in. It worked for most, I assume. Some of us need to see results before we act."
In this, their 10th annual meeting, almost every franchise was represented, and the majority of them brought multiple employees. David Harrison, who has been coming to the meetings for 8 years now, brought 12 people; and Larry Carrico, of the Missouri franchise, brought 7. Larry has been coming to the annual meeting since 2006, and says that he keeps coming back because this meeting gives him the "opportunity to share winning ideas amongst dealers, work with vendors on new product offerings, and discuss Larry Sutton's and the franchisee's vision for the future of RNR."
Larry Sutton is excited about this year's meeting. He's seen this franchise grow every year, and the meetings get larger and larger. This year's meeting, he says, was especially exciting because they are re-branding the company and adding "Tire Express" to the logo. RNR is heading in a slightly different direction, or rather shining some light on another large part of the business—the tire business. A new logo was introduced, as well as a new look for the stores, and Mr. Sutton is confident that the franchisees are excited about it as he is.
Everyone at the conference was there for one purpose, really—to help grow the franchise. Just as they say it takes a village to raise a child, it takes a dedicated franchisor, and equally dedicated franchisees, to make a business like RNR grow and thrive. The annual meeting and conference is an important factor in that growth. People who've previously only corresponded through the occasional email met face to face, made connections, and returned to their franchises with new ideas, a renewed sense of motivation, and, very often, a few new friends in their support system that know exactly what they deal with on a day-to-day basis—the struggles and the triumphs. These are the people they can call or contact when they need advice or input when something new comes up in their corner of the business. The connections made every year feed the success of the company as a whole, and help make the ride of each franchisee a little smoother. Like a new set of tires, you might say.
The RNR Experience
RNR customers are provided a program that allows them to pay for the custom wheels and tires that they want in easy weekly, bi-weekly or monthly installments with no credit hassles. In addition, customers are offered the lowest cash prices on wheels or tires and have a huge selection of both new and previously rented merchandise. RNR carries just about every major brand in the custom wheel and tire industry, including: Dub, KMC, Lexani, Michelin, Goodyear and many more. For Information on RNR, contact our Corporate Offices at 813.977.9800.
ABOUT RNR Franchise
Headquarted in Tampa, Florida, RNR Custom Wheels and tires operates tires and wheels stores and has become a dominant force in the wheel and tire industry by offering retail, rent-to-own and other payment options to those who want to own custom wheels and quality tires. Our innovative approach combines 40+ years of rent-to-own experience with extensive knowledge of the wheel and tire industry. RNR currently operates franchise locations in 21 states and has eight affiliate stores in Tampa, Florida. For additional information on franchising, contact John Armatas at 855.844.8377 or visit our franchise website at http://www.rnrfranchise.com.