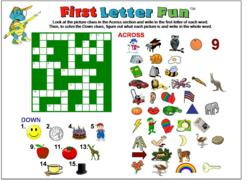 These puzzles are ideal for classroom and home use.
Chicago, IL (PRWEB) January 23, 2013
Having experienced phenomenal success with its popular Kids Across Parents Down (KAPD) collaborative family crosswords featuring across clues for kids and down clues for parents, KAPD, LLC has launched First Letter Fun, a unique, picture crossword for students pre-K through Grade 2. The puzzle features clues comprising not words, but a string of pictures. The child solves each across clue by sounding out the first letter of each image in the string. The down clues are single images which challenge the young student to sound out the word while leveraging the benefit of her earlier solving of the across clues.
Creator Jan Buckner Walker first noticed the enormous popularity of First Letter Fun when she developed it for the kids' menus distributed in the over 550 Cracker Barrel restaurants last season. "Within a few weeks, we received a call from the restaurant chain that the menus had run out – far earlier than expected. We figured out that teachers were taking dozens of puzzles for use in their classrooms," she said. Subsequent releases of this crossword prompted the same result. Restaurant employees have even reported seeing pre-schoolers "high five" their parents after solving the puzzle. Teachers have repeatedly contacted the company to obtain more of the unique content.
Walker is now developing a series of First Letter Fun puzzles for download by teachers nationwide. The puzzle offers a range of benefits, from left-to-right progression to critical thinking skills. Most important, though, she said, "First Letter Fun offers kids a sense of 'word ownership.' Without actually knowing how to read, a child can enjoy the satisfaction of solving a crossword and, having filled in the blocks with letters of his own making, now feels a strong need to read and understand the word he has created." She noted that the product also offers optional enrichment activities – AfterFun classroom activities and Family Funwork exercises for home.
According to Adrienne Mitchell, a Philadelphia-based special education teacher, "First Letter Fun crosswords are ideal for my students, who require differentiated instruction and struggle with short attention spans." She adds, "the enormous sense of satisfaction they derive from solving the puzzle pays major dividends in terms of confidence and momentum." Additionally, KAPD's new picture puzzle is an excellent tool for English as a Second Language (ESL) students, who, while not always facile with the English language, are highly familiar with the pictures and their first letter sounds. ESL teachers report major reading progress as their students rapidly fill in the squares and aggressively seek to read their words.
A graduate of Montgomery County Public Schools in Silver Spring, Maryland, Walker added, "These puzzles are ideal for classroom and home use." KAPD is in talks with several school districts seeking to pilot First Letter Fun during the 2013-14 academic year.