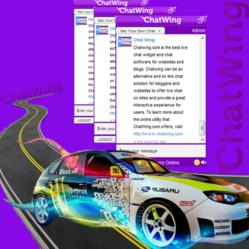 Boston, MA (PRWEB) January 20, 2013
As part of Chatwing's 2013 stratagem, the online company has started introducing its chat software to various online sectors and communities. Along with the new tool introduction, the company has also emphasized important tool usage tips that can maximize the potential of websites. These tips focused on simple traffic generation through the chatroom app, best color combinations, proper social media advancements, and the importance of frequent updates.
The new features of the Chatwing chatbox include new customization choices. In the earlier versions of the shoutbox, there are only limited colors to choose from. With the new version, users can mix and match chatroom colors freely. Apart from that, the new chat platform has three styles: actual shout box, pop-up window, and vanity URL. These three styles are essential in achieving the balance in every user's preferences. The average installation time of the chatroom also takes less than a minute.
Chatwing developers also shared the tips to aspiring bloggers who want to gain more communication leverage. A year ago, the company has committed to tip-sharing effort and received positive feedbacks. The company is confident that hundreds of web users can benefit from the tips offered and from the overall efficiency caused by the chat room.
In the coming months, Chatwing will conduct more online activities to reach many web users. These activities, as of now, can be branded as surprises and updates will just be posted in the company's official Facebook page.
About Chatwing.com
Chatwing.com specializes in the new field of website chat. Over years, the development team has introduced live chat widget for hundreds and thousands of blogs. The application bridges people from many parts of the world, creating global synergy through the Internet. The shout box can be installed in just seconds, and it can be used for varying purposes such as leisure and Internet marketing. It also allows a user to customize the size, color, and name of the widget.