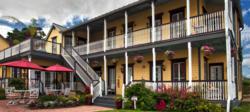 The Bayfront Marin House is a perfect addition to this group of premier inns.
St. Augustine, FL (PRWEB) January 22, 2013
The Bayfront Marin House, a 15-room bed and breakfast in St. Augustine, FL, has joined the BedandBreakfast.com Diamond Collection, a distinction reserved for premier inns offering extensive amenities and top-rated guest reviews. Launched in October, 2009, the Diamond Collection was introduced to help travelers streamline their search for the country's best inns.
The Bayfront Marin House is the newest member of the BedandBreakfast.com Diamond Collection.
To qualify and maintain membership in the Diamond Collection, B&Bs and inns must pass a comprehensive professional inspection measuring the property's quality, service, hospitality, accommodations, food, amenities, and more. To qualify for membership, Diamond Collection properties all maintain top guest ratings and reviews on BedandBreakfast.com and offer a professional reservation experience, including extensive property photos and online reservations. Additionally, Diamond Collection members provide the amenities that today's travelers require, including private baths, free Internet service, luxury appointments and amenities, professional staffing, and flexible check-in/out times.
"Vacation time is a valuable commodity these days," explained Eric Goldreyer, Founder and CEO of BedandBreakfast.com. "When planning a getaway, travelers want the assurance of knowing that they'll be staying at a B&B or inn that meets the highest standards. The Bayfront Marin House is a perfect addition to this group of premier inns," finished Goldreyer.
About the Bayfront Marin House:
The Bayfront Marin House in Saint Augustine, Florida is a 15-room, luxury bed and breakfast inn. Located on the Matanzas Bay, the bed and breakfast offers stunning views of the water, hot southern breakfasts each day, along with the highest levels of personalized customer service.
About BedandBreakfast.com:
Founded in 1995, BedandBreakfast.com is highly recommended by The New York Times, Real Simple, Forbes, Travel & Leisure, USA TODAY and many others. To learn about over 10,000 other perfect choices for your next B&B getaway, visit BedandBreakfast.com, the leading online bed and breakfast directory and reservation network worldwide. A variety of search functions and extensive maps enable inngoers to find the perfect B&B. Travelers can make reservations online, purchase The Getaway Gift Card from BedandBreakfast.com, welcomed at over 4,000 B&Bs in the U.S. and Canada, read up-to-date trip reports on The BedandBreakfast.com Blog, read and write independent reviews, and post questions on expert-hosted message boards.
For more information on The Bayfront Marin House, visit http://www.bayfrontmarinhouse.com or call 904.824.4301 for reservations.