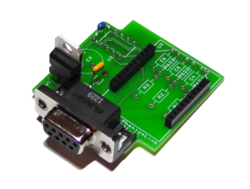 Albuquerque, NM (PRWEB) January 20, 2013
PhantomLink is pleased to announce the launch of a tutorial webpage that teaches how to use the RN-XV WiFly breakout board to add Wi-Fi controls and web monitoring to electronic projects. The tutorial provides step-by-step examples covering basic communications through advanced applications. The tutorial is designed to be an ongoing service of PhantomLink, and new projects and examples will be posted on a regular basis.
The WiFly programming tutorial relies heavily on PhantomLink's RN-XV WiFly breakout board, which is based on the same design used for the PhantomLink Wi-Fi project. This makes the board compatible with PhantomLink's do-it-yourself alarm monitoring and event notification service. Examples for using this service are provided in the tutorial, and more examples will follow. Electronics hobbyists are encouraged to participate in this project to develop and expand the capabilities of the technology.
PhantomLink.com was developed by and is operated by Phantom Data Services, LLC, a New Mexico limited liability company specializing in advanced website development and web-enabled technologies.