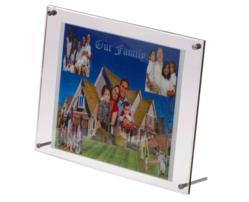 Committed to quality design and excellent service, we are passionate about helping you celebrate the luminaries in your life!
Atlanta, GA (PRWEB) January 20, 2013
A picture is worth a thousand words and a stylish picture frame only adds to that value. Luminous Life Frames launches their exquisite photo frames giving families, businesses and friends a alternative to the typical picture frame.
Luminous Life is creation of a line of stunning backlit photo frames designed to celebrate the great moments of life. Luminous Life Frames utilizes your treasured photos to create heirloom "memory frames" for celebrations including weddings, Bar/Bat Mitzvah's, birthdays, graduations, family reunions, and anniversaries. Luminous Life Frame's corporate line is perfect for sales awards, retirements, and professional achievements of all kinds.
With Luminous Life Frames, the sentimental value are endless.
Luminous Life Frames was created by founders Toby George and Y.G. Nyghtstorm in memory of their son, Victor Sims, who passed away in 2008 at the age of nineteen. Remembering Victor as a "luminous presence on the planet," Toby and Y.G. created a special memorial in his honor after his passing. It was a backlit photo frame featuring Victor's graduation photo in the center, surrounded by other "photo memories" of the high points in his too-short, but luminous, life.
For more information about Luminous Life Frames and to see how it works please log on to http://www.luminouslifeframes.com