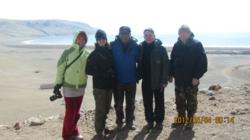 April 20 to October 2013, newly enhanced Tibet Kailash Manasarovar pilgrimage tour programs are available.
Local agent, Lhasa, Tibet (PRWEB) January 22, 2013
Basing on the past years tour organization experience in Tibet, Tibet Ctrip Travel Service-TCTS now announce their new Kailash Manasarovar tour program for 2013. As one local Tibet tour agency and operator, they offer a new and tailor-made Kailash Manasarovar pilgrimage with suitable itinerary with additional combination such as Sakya Monastery and most day excursions at Manasarovar Lake for 2013 Kailash travel seasons. This new program is different from old one which normally takes longer than 14 days.
Here below is the new program they designed for pilgrimage travelers to Tibet in 2013.
Day 01 Arrival in Lhasa [3650m] rest for acclimatization
Day 02 -03 Lhasa sightseeing for the must see sites (Potala Palace, Jokhang Temple, Barkhor Bazaar, Drepung & Sera monastery)
Day 04 Lhasa-Yamdrok Lake-Karola Glacier-Gyantse-Shigatse [3900m]
Day 05 Shigatse (Tashilhunpo Monastery)-Sakya Monastery-Lhatse [4010m]
Day 06 Drive from Lhatse to Saga [4600m]
Day 07 Drive from Saga to Manasarovar [4560m]
Day 08 Excursions at Manasarovar, Drive to Darchen (Tarboche [4750m])
Day 09 Trek to Diraphuk
Day 10 Trek to Zuthulphuk [4790m]
Day 11 Trek back to Darchen [4560m]
Day 12 Drive to Saga [4750m]
Day 13 Drive to Zhangmu [2100m]
Day 14 Drive to Kathmandu [1400m], 123 km, Tibet Kailash tour ends
TCTS travel service highlights and differences
1) Tibet travelers get 100% Tibetan local tour guides, more importantly, tourists can get experienced and quality Tibetan guide;
2) Tour licensed vehicles with good conditions and experienced drivers who are familiar with Tibet roads;
3) the agent creates customized tour itineraries designed to enhance the overall brand experience; travelers get further off-the-beaten-track;
4) the agent provides instant support before, during and after the whole Tibet trip (from inquiry to the time clients arrive at home);
5) the agent offers competitive prices, they are not middle handlers (they organize Tibet tours, and they do operate the tours by themselves).
Feel free to contact the local Tibet tour agency to select or tailor make one Tibet Kailash pilgrimage tour. They have many old clients with lots of Tibet travel reviews in the previous years. Importantly travelers can get up-to-date Tibet travel advice and information.