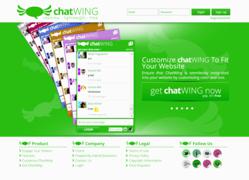 Los Angeles, CA (PRWEB) January 21, 2013
Aside from the new changes in the Chatwing chat software, the company is now ready to offer natural link exposure. This simply means that registered users can now leave important links in any Chatwing chatroom, and many visitors can see those links. The company has foreseen that this will improve any website's visibility by a marginal rate. Moreover, the company offers an improved communication experience for all web users.
Website owners can benefit from the dynamic chat box in many possible ways. First, the chat app allows social media integration. Visitors can log in with their Facebook and Twitter accounts, and the website owner can use this opportunity to expand his social networks. This applies to virtually anyone present in the chatroom. The website owner can also add unlimited chat boxes in his account dashboard—a useful feature if many blogs and websites are maintained at once.
The link exposure capability is still under the discretion of the chat room admin. If the links do not adhere to the rules of the website, the admin has all rights to clear the chatroom message. To clear any violating messages, the admin can just click a small delete icon in the chatroom. The platform also allows a banning system so that obnoxious visitors cannot harm the credibility and peace of the website.
A website owner may have dozens of ways on how to spread his links in a finite amount of time. The Chatwing tool eases up the process so that website owners can focus on other important things, like improving the content of their websites. To keep users properly informed, the company often posts updates in Facebook, Twitter, and other blogs.
About Chatwing.com
Chatwing.com specializes in the new field of website chat. Over years, the development team has introduced live chat widget for hundreds and thousands of blogs. The application bridges people from many parts of the world, creating global synergy through the Internet. The shout box can be installed in just seconds, and it can be used for varying purposes such as leisure and Internet marketing. It also allows a user to customize the size, color, and name of the widget.