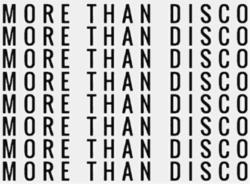 We want to connect music artists and listeners via one central place. The aim is to expose a great untapped source of musicians to an international pool of readers...it is a simple PR and music hub with an international focus.
Melbourne (PRWEB) January 22, 2013
It was only a matter of time before a site like this was created. And with so many bands and musicians to be discovered and introduced to new music fans around the world, there is definitely an air of optimism around the launch of More Than Disco.
As a new music website, More Than Disco hand selects the best emerging and established musicians from around the world for individual features on the site. From its humble beginnings as a blog in 2011, MTD's global readership quickly grew and the need to expand was imminent. Site owner and founder, Shauna Maguire, says there was a pressing need for an online source such as More Than Disco within the current music climate.
"It's probably the most disparate market the music industry has ever seen – an explosion of social media, online music streaming services, DRM, DIY band marketing and festival upsurge. However, with so much opportunity for exposure, music artists may not be capitalising from their hard work, or be seen by overseas audiences. A site like this may start to chip away at that notion and unite like-minded music folk," commented Maguire.
On the warm horizon of 2013, the website launches with feature interviews from Australian female pop artists Sophie Koh ("Best Female Artist", The Age) and Michelle Xen (LADY ELECTRONICA, The Neon Wild), as well as showcasing new music from Casey Desmond (The Voice, U.S.), Half Moon Run ("The Next Big Thing", NOW Toronto, CAN), The New Division (NME'S "Radar", U.S.), The New Highway Hymnal ("Best Act of 2012", Boston Phoenix, U.S.), along with hosting previously featured interviews from 2012, including Triple J bands of the minute Tigertown, Nantes and Art of Sleeping (AUS).
"It is a simple PR and music hub with an international focus. We want to connect music artists and listeners via one central place, regardless of where anyone might be located in the world. The aim is to grow the online readership of the site and expose a great untapped source of musicians to this international pool of readers…one EP at a time."