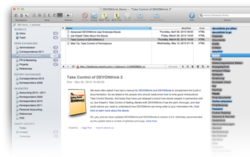 New York (PRWEB) January 21, 2013
Top-Software-Reviews.com has now announced submission of software reviews on its blog, and partnered with 13 small to midsize companies.
Top-Software-Reviews.com offers plenty of knowledge about its software reviews to improve the knowledge and creativity of readers, and now the site has started accepting submission of software reviews from its readers, and other reviewers too.
To take a look at the various software reviews on their site and to find out what the site offers to the writers, log on to http://www.top-software-reviews.com
Top-Software-Reviews.com has partnered with Pavtube, Advdsoft.com, NetMan Enterprise, iOrgSoft, Koaky.com, and several other companies, offering a wide range of choices to its readers. There are over two hundred comprehensive software reviews published on the website.
Encouraging the experts to submit their opinions and reviews on their blog, founder of Top-software-reviews.com said – "If you are software publisher, author or an authorized agent, you can submit your articles on our blog. The article should be original, and should have minimum of 300 words count with relevant images included. Moreover, if the review is of very high quality, then we will distribute it to more than fifty do-follow bookmarking websites. Once you submit the review, you will have to wait for around 2-5 days for approval."
Although Top-Software-Reviews.com is accepting submissions at no-cost, there are certain terms and conditions to be satisfied to avail this offer, otherwise a small fee is charged. For instance, the website is currently accepting only the reviews of software listed on Clickbank, Regnow, PayDotCom, and Plimus. If the software is not listed on any of these, then a fee is charged for publishing the article with a do-follow backlink.
Talking about the exposure that the authors can gain by contributing the reviews on their blog, founder of the website commented – "If you are a new author, you can easily gain huge exposure, and connect to a large audience, that too totally no cost!" So, it doesn't matter whether you have any prior experience in reviewing the software or not, if you want to contribute your opinions, then Top-software-reviews.com is a great place to do it".
Few of the popular software reviews on their website are DEVONthink Pro Office Review and DEVONthink Pro Office. And, the founder of the website intends to develop a large encyclopedia of over 1000 software reviews over the next one year.
About Top-Software-Reviews.com
Top Software Reviews provides high quality reviews on different products and services. The extensive list of its product categories available on the website assists visitors to choose the products of their choice after reading unbiased reviews.
Writers looking forward to generating some exposure and powerful backlinks can also log on to their site and submit quality software reviews. There are over 25 different categories on the website, and authors can review any software of their choice.
Currently, the website is also working on partnering with a few more software publishers and creators.
The website also features an extensive list of 20 popular DVD tools on http://www.top-software-reviews.com/dvd-tool/.