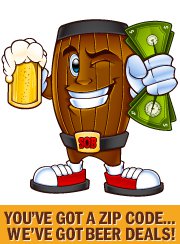 Back when Bobby first opened his bar, there were no other bars selling craft beer and zero foot traffic. Now this section of 5th Avenue is thriving.
Houston, TX (PRWEB) January 21, 2013
Craft beer sales rose 12 percent in volume during the first half of 2012, according to the Brewer's Association. This growth in passion for craft beer has created an increased interest in what goes on behind the scenes of this craft brew explosion. SaveOnBrew.com, the world's only beer price search engine, has started offering new blog content that features exclusive interviews with beer industry professionals.
This month, SaveOnBrew interviewed Bobby Gagnon, owner of The Gate craft beer bar in the Park Slope neighborhood of New York City. Back when Bobby first opened his bar, there were no other bars selling craft beer and zero foot traffic. Now this section of 5th Avenue is thriving. "You would be hard pressed to find a restaurant, bar, small burger joint etc. with a couple draught lines that does not feature craft beer," says Gagnon.
He explains how he chooses different types of beer for his bar to stay competitive and also how he prices his pints to ensure that he churns a profit, without driving away regular supporters. He talks about brewers who have really gone over and beyond to keep prices low, despite the escalation in the price of beer ingredients. Readers will learn which brewers are the most fun to party with after-hours and what goes on at the annual Dogfish Head Bocce Tournament. One of the newest trends is enjoying celebratory "aged" beers – which is another topic of discussion in this SaveOnBrew exclusive.
"Essentially we were tired of reading the same old recycled industry news," explains SaveOnBrew Content Director Jennn Fusion. "There are so many interesting stories happening behind-the-scenes and little niches within the craft beer world that are worthy of exploration. We feel that sharing this type of original content will become part of what ultimately fuels greater passion, experimentation and expanding tastes within the craft beer industry."
In addition to learning about new breweries, top-selling beers, local scenes and brewing processes, SaveOnBrew is also the leading source of retail beer price information on the web. "We hope you'll find a few beers that pique your interest in our Beer Blog," explains Fusion, "and then to find that beer, you just enter your zip code to search for that brand in our database. We'll give you an updated, accurate list of retailers with that beer on sale. You can also sign up for Beer Alerts, which lets you know when your favorite beers are on sale in your town."
To read the full interview with Bobby Gagnon and begin searching beer prices, brew-lovers may visit: http://www.saveonbrew.com/blog-article/saveonbrew-exclusive-interview-park-slope-craft-beer-pub-owner-bobby-gagnon
# # #
SaveOnBrew.Com was founded in 2010 to help thirsty beer drinkers across the United States find the lowest advertised prices for one of the world's most popular beverages.