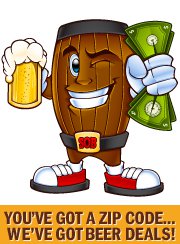 The plugged-in, Post-Recession consumer is much savvier than that.
Houston, TX (PRWEB) January 24, 2013
GasBuddy revolutionized the way people fueled their vehicles. For the first time, they could search for the best gas prices online and make an informed choice on where and when they'd fill up. SaveOnBrew.com, caters to the beer community much the same way by publishing local beer prices in much the same way. "We'd like to think we can bring the same experience to the beer-shopper and, some day, other consumer products," said site founder Mark Davidson.
"It used to be that people were just concerned with convenience," says co-founder Mark Davidson. "They would stop at the same gas station on their route home from work, grab a 12-pack, and go home. However, the plugged-in, Post-Recession consumer is much savvier than that. They're willing to travel a teensy bit out of their way to find a good bargain. Our site makes beer deal-hunting much easier to do."
"GasBuddy has done really well with their crowd-sourced information. It's really quite powerful. We want to take that same idea and bring it to the beer-shopper," said Davidson.
"Crowd sourcing is not without pitfalls," said Davidson. "We went down that road and found that beer crowd-sourced info was often unreliable. So we devised propriety systems to collect and distribute beer pricing information."
Currently, consumers simply enter their zip codes at SaveOnBrew for a list of local beer sale prices. They can narrow down the search by brand, type of beer, quantity, or retailer. Mobile users can access a map to the nearest retailer featuring beer sales. Both mobile and PC users can read beer reviews on the site or find helpful suggestions in The Beer Blog. The site's new "Beer Alerts" function emails or texts users when their preferred beer brands go on sale locally. "We aim to be a one-stop-shop for all things beer," Davidson explains.
"This week, I received a Beer Alert for Dogfish Head's 60-Minute IPA," says Content Director Jennn Fusion. "I found out I could save a buck off a 6-pack by going to the Consumer's less than a mile from my house, versus grabbing it at the supermarket like I normally would. A dollar may not seem like a lot, but by saving a dollar every week I buy beer, that adds up to $52 a year in savings -- at minimum."
The site is continually growing, with thousands of new retailers and beer brands added each day. "We're not perfect. Beer sales vary widely from place to place," Davidson explains. "So we invite readers to let us know if there is a particular hot spot in their area that is not currently listed. We also want to let brewers and retailers know that advertising in our search engine is totally free. They just need to contact us directly to get on our radar. SaveOnBrew is a fantastic leveraging tool for the smaller craft beer sellers."
# # #
SaveOnBrew.Com was founded in 2010 to help thirsty beer drinkers across the United States find the lowest advertised prices for one of the world's most popular beverages.