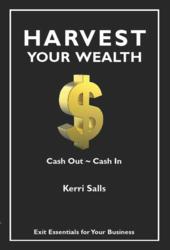 The urgency for baby boomers to act now cannot be overstated.
Framingham, MA (PRWEB) January 21, 2013
This Way Out Group, the break-out boutique services firm providing comprehensive collaborative exit planning services announced today the release of HARVEST YOUR WEALTH – Exit Essentials for Your Business (published by This Way Out Press $17.97 and available on Amazon.com) by CEO and author, Kerri Salls. HARVEST YOUR WEALTH – Exit Essentials for Your Business educates and prepares business owners to monetize their business on their terms when they plan to get out, instead of simply shuttering the business and walking away. Only when an owner prepares the business for a clean, solid, and profitable exit can they expect to cash out of the business to cash in on their future. Written by expert exit strategist Kerri Salls, HARVEST YOUR WEALTH reveals the secrets the transaction experts want entrepreneurs to know before selling a business, but no one has been telling them until now.
In HARVEST YOUR WEALTH, Salls introduces the 95% of all entrepreneurs and owners who do not have an exit plan for their business to the decisions, choices, options and opportunities they need to know about years before they decide to get out of their business. She advocates for early exits, especially over the next five years for baby boomers.
Salls says, "HARVEST YOUR WEALTH gives the owner/entrepreneur more control and leverage getting out. Plenty has been written on starting and growing a company. Very little has been written on exits, on monetizing that investment to be able to get out. What has been written has focused on the financial and legal side of the exit transaction or from the advisor or the buyer's perspective."
Less than 10% of business owners who put their companies up for sale actually get the deal done. (2010 Survey of Brokers and Buyers by MidMarket Capital) "[Exiting small business] owners are preparing for the deal of a lifetime with possibly zero experience." (MorganStanley SmithBarney publication, 2011) [via Blackbridge Newsletter 2011]
They think they'll be able to sell when they want for what they want with no lead-time or preparation of the business, the team or the business owner. That's a diet of hope and promises that will satisfy no one. Because of a lack of pre-planning, 95% of all business owners are leaving up to 50% of the value of their business on the table when they exit.
In this book, Salls focuses on the needs of owners to make their business buyer ready and buyer attractive; on exit planning from the seller's perspective before the transaction experts, or the buyers come into the picture. The urgency for baby boomers to act now cannot be overstated.
HARVEST YOUR WEALTH provides steps, checklists, assessments, questions and exercises all business owners must consider in order to take control and achieve their goals in the business and beyond. Salls provides the resources, tools and insight to encourage entrepreneurs and business owners to, as she says, "Plan their exit from the outset."
Salls started her career in the Peace Corps in West Africa and then spent a decade accumulating multi-million dollar corporate achievements before launching her first business in 1988. She has been active in business strategy and exit planning for 40 years.
This Way Out Group LLC has been refining and applying a holistic system to assist business owners since 1999 specifically to help owners transform an income generating business into a wealth-producing machine so they can sell or scale the business on their terms on their timeline. Partnering with the business owner 2-5 years before their expected exit, we help established and hyper-growth companies prepare for and achieve their optimum exit strategy. We help owners to accelerate sales, optimize growth, and maximize value to make their business buyer ready and buyer attractive so they can get out and move on to the next venture, adventure or avocation.
HARVEST YOUR WEALTH – Exit Essentials for Your Business is available at Amazon and other outlets or at http://www.harvest-your-wealth.com.
TO ARRANGE INTERVIEWS OR MEDIA/SPEAKING APPEARANCES CONTACT:
Kerri Salls – 1. 978.270.1524 or
Kerri(at)KerriSalls(dot)com