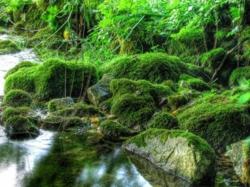 Buy Affordable Moss Plants Online
Altamont Tennessee (PRWEB) January 21, 2013
Moss is a great garden plant and makes excellent fillers for shady areas in landscaping where little else will grow. Its also good for making topiary garden figurines and statues.
The types of moss used should depend on what areas to put them in. For instance, ground fern moss looks like a frilly carpet. This type moss is great for shaded areas where grass will not grow. Tn Nursery sells mosses in square foot pieces so the landowner can measure the area of coverage needed and buy accordingly. It's easy to install and buy plants at Tn Nursery without being a landscaper or getting them involved, which is costly. Cushion moss is another favorite in the moss family. This type moss looks like a pin-cushion and is dark green in color. This moss makes a lovely centerpiece for perennials to grow around and is sold also by the square feet.It spreads well to make a lovely atmosphere where ever planted. All mosses can withstand some sunlight but loves shade to dominate it's habitat.
Spagnum Moss, known also as peat moss as a great product for many reasons. This type moss requires it to be planted in swampy areas to keep misquitos down and also its a great protector of fragile flower bulbs and perennials when put around the base of the plant in those cold winter months. Moss prevents the gardner from having to take fragile bulbs inside come Fall.
Also enjoy a moss collection. This is a 5 square feet sampling of mosses combined for those that demand variety in a garden. There's rock cap moss, fern moss, peat moss and cushion moss for all your landscaping needs.
What about terrariums? Reptiles love terrarium moses.We have the perfect selection of mosses for terrariums. These mosses also are excellent for reptiles to hide in and reproduce. It's their preferred natural habitat. Buy mosses today and make a terrarium come alive with live moss.
Ever heard of rock moss. This is simply rocks with moss growing on them.They can be placed in shady areas of a garden and this type moss will spread and eventually will have a moss garden complete.
Tn Nursery is a wholesale nursery in Middle Tennessee. Our nursery offers state certified speciman quality nursery stock such as trees, shrubs, perennials, ferns, wetland & pond plants, native plants and Ferns. Tn Nursery also sells collected wildflowers, perennials and vines at wholesale grower prices.
For more information, go to Tn Nurseries online plant nursery website at http://www.tnnursery.net where you can find our helpful blog about gardening information and gardening tips on how to garden more effeciently and affordabilly. You can also place secure orders online for fast shipping too or Spring Shipping.