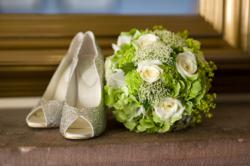 Newport Beach, CA (PRWEB) January 22, 2013
Since becoming engaged in 2010, singer Jessica Simpson has had to cancel wedding dates twice: once in 2011 and once again now. Wedding.com finds that this is not uncommon with many couples due to a variety of reasons: financial circumstances, family events, work requirements, and as in Simpson's case, an unexpected pregnancy.
Simpson and Johnson's engagement is in no way facing jeopardy, as the couple has merely been postponing wedding planning due to the conception of their daughter, Maxwell, and their new baby on the way. Both pregnancies were unplanned. In an interview with Jay Leno, the pop star expressed that she and Johnson are "doing [marriage] very backwards" (http://blog.sfgate.com/dailydish/2013/01/16/jessica-simpson-postponed-wedding-for-babies/). As with many other couples, gone are the days where first comes love, then comes marriage, and finally a baby carriage.
However, any delays in wedding plans may prove costly. If wedding day reservations need to be postponed, engaged couples should immediately refer to all of their contracts. In fact, wedding experts at Wedding.com suggest going over all cancellation policies prior to signing contracts for anything wedding related. With Wedding.com, couples are able to discuss any and all issues before the wedding day through a sophisticated messaging system to prevent disastrous fees or legal issues.
The cancellation fees charged by vendors are necessary to an extent because when a vendor is booked for a specific calendar date, they remove that day from their availability calendar and do not accept any other bookings for that day. Although it is understandable that a charge is necessary, Wedding.com recommends establishing that amount prior to signing the contract and to check that it is in proportion to the cost of the vendor, the amount of time before the wedding, and the likelihood they will be able to book another wedding for that date.
"Cancelling or postponing a wedding for a variety of reasons can be very difficult emotionally," said Brett Reynolds, CEO of Wedding.com. "Although no one wants to think about these things during the planning process, it is important to ask about the cancellation policies when booking vendors so as to minimize the damage as much as possible. "
For more information about Wedding.com, please visit http://www.wedding.com.
About Wedding.com
Wedding.com is an innovative new website that connects engaged couples planning their wedding with wedding vendors looking to grow their business. Wedding.com contacts vendors for couples, giving them the power to compare and negotiate while ultimately saving time and money. With 11,000 couples and 20,000 vendors currently using the website, 87,000 proposals have already been sent since their inception. Vendors range in services from wedding planners, photographers, florists, and DJs to custom invitations, party favors, and much more. For additional information about the company and its services, please visit http://www.wedding.com.