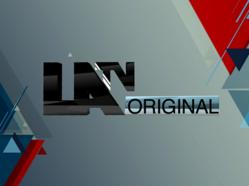 ''...we were the first and the rest are just following.''
LOS ANGELES, CA (PRWEB) January 21, 2013
LATV, the original national, bi-cultural entertainment network, is proud to announce a bold new look and several new additions to an already dynamic brand.
This year, LATV unveils a reboot to its signature trademark, with a logo and graphics that capture the sharpness of the network's personality. The word "Original" is also added to remind viewers that LATV was the first outlet on the media landscape to produce bi-cultural programming. And we're still growing and going stronger than ever.
In addition to the update of LATV's look and feel, the network is also reigniting its pioneering past with much more musical content than ever before, with shows like Text Mex, Las Desveladas, and Cardio Cumbias, while continuing to bring some of the best in Latino entertainment you cannot see anywhere else to the comfort of your home.
"Our look is something that has always been easily distinguished by our viewers. But we felt adding more edge and sharpness, plus the word 'original' was important, in order to make the statement that we were the first and the rest are just following," says Luca Bentivoglio, LATV's COO and Head of Programming.
In regard to the new programs, Bentivoglio explains. "These new shows will spice up a full slate of content that pushes the envelope of bi-lingual content. Since the beginning, LATV has never been afraid to take risks. Our audience expects no less in 2013."
RELATED LINKS
http://www.latv.com
About LATV:
LATV is the only remaining Latino-owned TV network in the Hispanic television space. Its programming primarily targets U.S.-born Latinos and the coveted bi-cultural 18-49 Latino demographic, with content that features a combination of originally produced shows as well as licensed content that has never before been seen in the U.S.
LATV's fully-owned subsidiary, American Latino Syndication, produces and distributes "American Latino" and "LatiNation," two award-winning, Latino-themed TV programs that are broadcast on general market stations in over 100 cities nationwide. For more information, please go to http://www.LATV.com and http://www.AmericanLatino.tv.
Media Contact:
Melina Rodriguez
mrodriguez@latv.com
Office: 310.943.5288 x 622