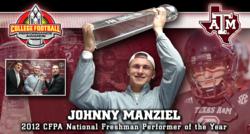 Davidson, North Carolina (PRWEB) January 21, 2013
Texas A&M quarterback Johnny Manziel was presented the 2012 CFPA National Freshman Performer of the Year Trophy on January 17, 2013. Manziel is the third Aggie to earn College Football Performance Awards honors, following 2011 CFPA Placekicker Trophy winner Randy Bullock and 2010 CFPA Elite Defensive Performer Trophy winner Von Miller.
Manziel received the 2012 CFPA National Freshman Performer of the Year Trophy at halftime of a men's basketball game in Reed Arena. Previous award winners include Ohio State quarterback Braxton Miller (2011), South Carolina running back Marcus Lattimore (2010), and Oregon running back LaMichael James (2009).
"It's a great award for me," said Manziel. "Being a freshman -- to do some of the things that not only I did, but that we did as a team -- it's a great honor." The third Aggie to earn CFPA honors in the past three seasons, Manziel added, "It's awesome. Two good friends (Randy Bullock and Von Miller); to be in the same company as them, it's something I really take to heart."
"I want to congratulate Johnny Manziel on earning the nation's top freshman award," said former Bryant tight end and 2011 D-I FCS recipient Matt Tracey. "Joining this elite group of performers is special because the awards are based upon scientific methods."
CFPA FCS Awards:
Northern Iowa quarterback Sawyer Kollmorgen and Villanova quarterback John Robertson earned 2012 CFPA D-I FCS National Performer of the Year honors. Previously, Old Dominion quarterback Taylor Heinicke (2011) and Montana State quarterback DeNarius McGhee (2010) earned the award.
CFPA in the Senior Bowl:
Numerous CFPA recipients accepted invitations to this year's Senior Bowl. Two-time CFPA winner Quinn Sharp (Oklahoma State) and fellow specialist Dustin Hopkins (Florida State) will represent the North team and South team, respectively. CFPA FCS winners Aaron Mellette (Elon) and Kyle Juszczyk (Harvard) will both represent the North team. CFPA defensive winners Phillip Thomas (Fresno State) and Alex Okafor (Texas) will also both represent the North team.
CFPA in The Big Easy:
College Football Performance Awards presentations resume this weekend with Tulane specialist Cairo Santos scheduled to receive the 2012 CFPA Placekicker Trophy on January 26, 2013 in New Orleans, Louisiana. On February 3, 2013, 2010 CFPA Elite Quarterback Trophy winner Colin Kaepernick will lead the San Francisco 49ers in Super Bowl XLVII.
About College Football Performance Awards:
The goal of College Football Performance Awards is to provide the most scientifically rigorous conferments in college football. Recipients are selected exclusively based upon objective scientific rankings of the extent to which individual players increase the overall effectiveness of their teams. Nineteen CFPA recipients have been first-round NFL Draft selections.