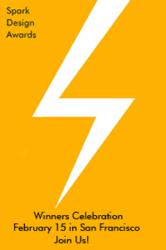 New York, NY (PRWEB) January 22, 2013
"Each year the Spark Community honors great design and great designers—especially those who have won a Spark Award. The event is called the Celebration. It's not an award show—instead we celebrate with comradeship and fun," said Spark CEO Peter Kuchnicki. "We are thrilled that the Celebration will be back at the awesome Autodesk Design Center, home to Spark for over six years."
Among the highlights of the event will be an exhibition of the winning designs, live music and videos from the designers.
For the first time, the producers will also announce the All:Spark Platinum Award winners. As Spark spokesman, Clark Kellogg stated, "To honor and continue Spark's tradition of being the 'One For All' design competition, we have inaugurated the All:Spark Awards. This competition is for the top winners of this year's four focused competitions. The top-level winners of Spark Concept, Communication, Product and Spaces competitions will be the only participants in the All:Sparks. The judges will choose three favorites from a field of over 100 designs."
Kellogg continued, "We have assembled a very special jury to choose the All:Spark winners, composed of veteran judges from most of the juries that have served since 2007. The Jury Chair is the renowned strategic designer, Arnold Wasserman, of the Idea Factory and Collective Invention."
EVENT SPECIFICS
Date: Friday, February 15
Price: No charge
Location: Autodesk Design Gallery, One Market Street, 2nd Floor, San Francisco
Advance Registration: Required. See Eventbrite link below
Time: 6pm to 9pm
Celebration tickets are very limited in number and offered on a first-come, first-served basis. All registration is being handled by Eventbrite Reservations >HERE
How to Participate
Interested parties can participate by joining the Spark community, contributing ideas and attending events like the Spark Winners Celebrations and exhibits. Designers can enjoy the further benefits of entering the competitions, gaining recognition and publicity for their skill and creativity. The entry system is simple and straightforward, with registration at the Spark website: http://www.sparkawards.com.
Bonus Info
Spark is proudly sponsored by Autodesk, Core77, ArchNewsNow, Archinect, Bustler, Pluo Consulting and RIOT Creative Imaging.
SPARK 2013 Competition Schedule
Spark>App—Call For Entry is active
Spark>Concept & Student—Call For Entry March 1
Spark>Communication—Call For Entry April 1
Spark>Product—Call For Entry April 1
Spark>Spaces—Call For Entry April 1
Spark>Mobility—Call For Entry April 1
The Spark Design Awards are an international design competition series with many categories. Spark's core mission is to help create a better world though design excellence. Spark entrants are an extraordinarily diverse group of talented people and companies, from university students, to the world's leading electric car companies and forward-thinking Fortune 500 companies.
The Spark competitions are open to all designers, including students (in Spark>Concept). The Spark Community may be joined at no cost. The Spark competitions have a variety of entry fees, depending upon the event. Submissions are made at the Spark website. Juries, composed of design professionals and experts, meet online and in person to choose Finalists and Winners.
Learn more about this organization and all these competitions at the Spark website landing page at http://www.sparkawards.com.