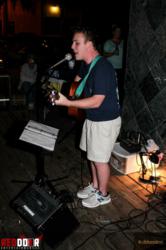 A successful event continues to remain successful by being attentive to the customers' needs and allowing for all types of people to enjoy a night out.
Tampa, FL (PRWEB) January 22, 2013
No more DJs. No more guest lists. These are just two of the differentiating factors of the brand new weekly Tuesday late-night event at CDB Pizza and Italian Restaurant located at 5104 Fowler Avenue in North Tampa. The event consists of two live acoustic performances and an atmosphere that caters to the older USF college students and young professionals in the surrounding communities. Every month the event will also feature a special guest band or musical performance in order to expose the attendees to different but new and exciting musical talent. The event is unlike any other near the University of South Florida. With two weeks under its belt, Tuesday nights are already off to a great start.
Most nightlife events that pop up around Tampa consist of the club-type atmosphere with wallet-damaging beverage specials and music that only caters to a certain demographic. While these types of events are certainly a good time, it is important to realize that in a tough economy and an area that is over saturated with event promotions, you must differentiate. That is how Tuesday nights at CDB's was born. A successful event continues to remain successful by being attentive to the customers' needs and allowing for all types of people to enjoy a night out. That was the main idea behind creating the event.
Each week on the patio of CDB's you can find a live solo acoustic musician playing some of the favorite tunes across many decades. Inside the main room, the customers choose the music. The jukebox becomes the DJ. People will choose everything from Rolling Stones to Toby Keith to Journey to Tupac. It is up to the customers to pick their favorite song to play, and this goes on the entire night. The Red Door Entertainment staff wanted to allow the guests to be in control of the music they listened to. So far this has been a hit. In the far room, there is another solo acoustic musician in a more intimate setting playing in front of the many tables that are set up for the patrons to sit, relax, and converse with their friends while listening to some great music.
CDB's boasts a very popular 2-4-1 drink special that customers new and old have continued to enjoy. A $5 food menu with 2 for $5 pizza slices are also a hit during the late-night event. There is $5 entry fee to help cover operational and musical costs. However, the venue's loyalty cards give each customer a discount on every visit along with free entry on their fifth visit. The next event will take place on Tuesday January 22nd and reoccur every week. On February 12th, special guest local band 'Displace' will take the stage and give the audience an unforgettable experience.
Red Door Entertainment is a fully licensed and accredited event planning company that prides itself on customer hospitality, new and innovative events, and consistent professionalism. After just three short years of successfully being in business and making a name for itself in the Tampa area, Red Door Entertainment continues to provide the community with not only events that are memorable but with an experience that allows for continued enjoyment.