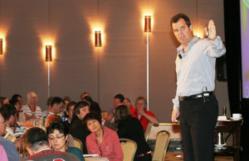 The hardest hit of this trend is the city of London, which is copping the double whammy of low owner occupation levels and consecutive rental increases well over the inflation rate
(PRWEB) January 21, 2013
A new report published by Home Owners Alliance reveal that owner occupation in the UK dropped to the lowest level since 1988 and, thus, home ownership is in crisis. This is why property investment specialist, Rick Otton, announced a new conference for 2013. Aside from sharing strategies that could help reverse that trend, Otton will show how to use strategies.
Further results from the report show nearly 5 million rental households have no other choice but to hold off their dreams of becoming homeowners due to continuously increasing rents and house prices.
"The hardest hit of this trend is the city of London, which is copping the double whammy of low owner occupation levels and consecutive rental increases well over the inflation rate," Rick Otton said.
The current trend and economic conditions have made it tough in the UK, where it seems impossible for most individuals to enter the property market using traditional methods. "But there are other more innovative ways to do just that. And it only takes out-of-the-box thinking. And that's what you will learn at the UK property conference in April 2013," Otton added.
Mr. Otton has been to the UK several times already sharing his strategies with property investors, aspiring homeowners, those who wanted to create wealth from real estate. He is basically teaching his out-of-the-box strategies on how to buy a house for a pound without depending on banks and lending companies for finance.
And now, Otton offers people in UK an opportunity to get to know his easy-to-learn property investment strategies at a live event. He is conducting his Zero-Debt Property Cashflow Conference 2013, on April 19-21, 2013.
The previous event conducted a year ago was completely sold out and lots of individuals were not able to register for the ever. Grab your ticket to Rick Otton's Zero Debt Property Cashflow Conference 2013 here: http://www.rickotton.co.uk/conference
About Rick Otton
Rick Otton has spent decades making money by snapping up inexpensive real estate and putting it to work building wealth. Now, he's teaching other Aussies how to do the same.
Otton is the founder and CEO of We Buy Houses, which operates in the U.S., U.K., Australia and New Zealand putting his strategies to work every day.
Otton got his start in alternative real estate investment in 1991 and within a year acquired 76 properties. In years after, Otton made a fortune using his low-risk, high-reward strategies to inexpensively acquire real estate.
Now, Otton wants to share the wealth by sharing the wisdom, teaching Aussies how to buy and sell real estate without cutting banks and other middlemen in on the deal.
Otton has been featured in a variety of television programs and magazines, including Today Tonight, A Current Affair, Australian Property Investor and more.
You can learn more about Otton and how to invest in residential real estate without using banks at http://www.rickotton.co.uk