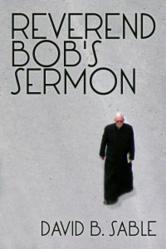 Holmen, WI (PRWEB) January 21, 2013
Bard and Book Publishing announces a new work by author, David Sable. Reverend Bob's Sermon is a short story that tackles topics such as depression, midlife crisis, isolation and other issues facing life today.
A pastor of an unresponsive church with the best of his life behind him and little to show for it, Reverend Bob spends his week preparing yet another sermon that will not be heard. Does a life of failed good intentions necessitate a sentence of isolation and futility?
When Reverend Bob took the pulpit of Redeemer Chapel, he spoke for twenty minutes to the walls. Herein, is an apt metaphor of one who lives a life of good intention but is stuck in a silent world where even the most basic relations do not seem to be listening. How does this narrative change? Or is one destined to another week of meaningless mediocrity?
Reverend Bob's Sermon is available for Kindle download and is also available on Smashwords.
About the Author:
David B. Sable is a business professional and a freelance writer. Father of two grown boys, he lives in the Appalachian Mountains in North Carolina with his wife Loretta and their high-need pets. He was the 2012 winner of the Athanatos Christian Ministries short story contest with his work The God of Oscar's Misunderstanding.