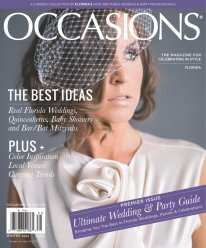 "It's our theory that no matter what kind of event you're planning, you are going to need the same stuff. So, find it all in the same place."
Florida (PRWEB) January 21, 2013
Occasions Magazine, Inc, the media for celebrating in style and only multi-platform media of its kind, has launched a new regional wedding & party magazine, Occasions Florida Edition, available now on newsstands throughout the entire state.
"Our team has been hard at work on the launch of this edition for months, and we are excited to finally bring the magic of Occasions to Florida," said Publisher and Editor-in-Chief Heather Vreeland, a Florida native, born in West Palm Beach.
Having an editorial voice not solely focused on weddings, but also mitzvahs, quinceañeras, showers and birthday parties too, Occasions will bring Florida brides, moms and modern day hostesses unique articles and attainable ideas that cover each aspect of event planning like decoration, food, entertainment, stationery, etiquette, photography and desserts that are both relative and inspiring for weddings, parties & entertaining. "It's our theory that no matter what kind of event you're planning, you are going to need the same stuff. Be it a wedding, quinceanera, bat/bar mitzvah, family reunion or birthday party, Occasions Florida Edition delivers it all to readers in Florida," said Vreeland.
The Occasions Florida Edition is noticeably unique compared to other wedding-only publications. The obvious difference is the magazine's coverage of all events, but also its clean design, heavy paper weight, glossy finish and a comprehensive venue guide that uses QR code technology to give readers more information about each venue instantly. Vreeland says "It's meant to feel more like a book or resource you keep forever rather than a flimsy piece that is easily tossed in the trash."
The premier print issue will be available through direct mail, at major retailers, bridal registries and events across Florida with concentrations in South Florida, Orlando, Tampa and Jacksonville. Additionally, digital editions are available for online viewing. Subscriptions for individuals, gift subscriptions and bulk subscriptions are easy to order on the website.
MORE ABOUT OCCASIONS MAGAZINE
A whole new breed apart from the usual wedding-specific media, Occasions Magazine is serious about bringing readers all things event related with a sweet scoop of style on the side. Occasions reports on event planning related content that is fresh and fashionable, and filled with great ideas. All event essentials like a venue, food, invitations and entertainment are all explored in Occasions.
ABOUT HEATHER VREELAND
Originally from Palm Beach County, FL, Heather Vreeland graduated from Flagler College in St. Augustine, Fl. Her gumption and love of life's many celebrations has catapulted the Occasions Magazine brand into one of the most respected multi-platform media companies across the special events industry. The expansion into Florida is just one of many Vreeland sees on the horizon as awareness of Occasions® continues to increase.
For more information, visit Occasions Magazine online at OccasionsOnline.com. Contact: Heather Vreeland, Group Publisher heather(at)occasionsonline(dot)com (770) 595-6911