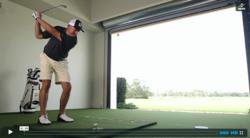 golf training aid curriculum will be lead by PGA Tour golfer Ken Duke and instructor Bob Toski
Boston, MA (PRWEB) January 22, 2013
GOLFER'S POWER DRIVE will debut a new training curriculum web site on Thursday at the 2013 PGA Merchandise Show. The new training aid curriculum will be lead by PGA Tour golfer Ken Duke and Bob Toski, his personal trainer and World Golf Teachers Hall of Fame. Ken had 6 top 10 finishes on the 2012 PGA Tour. Bob joined the PGA tour in 1949 and was the leading money winner in 1954, winning four times.
Having two great PGA Tour experienced golfers and Bob's renewed fame as a leading golf coach will help many professional, amateur and pleasure golfers improve their game, said Power Drive Performance President, John Miller. Bob has worked with Ken since 2006. Ken Duke said "It's been great working with Bob, "I've changed my golf swing to try to be more consistent. It's making me believe that I can swing it the way that he's teaching me to do it, and having fun doing it". Bob Toski has instructed other pros such as Tom Kite, Bruce Crampton and Judy Rankin. He also has written several books and produced golf instruction videos.
The training video shoot will conclude today at the Butch Harmon Learning Center, located on the premises of the Floridian Country Club in Palm City Florida. Power Drive Performance, President, John Miller personally filmed the training with a 700 frames per second camera to capture the training in slow motion. Miller said, "Butch Harmon's facility which features the Titleist Performance Institute and 12-acre outdoor practice area allowed the perfect environment to capture the essence of a professional golf swing for training purposes".
This training video will launch the Golfers Power Drive web base training site. Power Drive Performance also produces the Pitchers Power Drive, Softball Power Drive and Hitters Power Drive. All PPD product web sites feature in depth training for proper learning to increase athlete's skills and performance. The sites are updated several times each year. Miller said "as professional trainers at our training academy in Boston, providing no charge continuous learning is essential for the proper use and personal development". Each athlete's performance is important to enjoying the game and to us, as professional trainers" Miller added.
The Ken Duke and Bob Toski training video will join additional video shot in ultra slow motion with a Phantom Flex High Speed digital camera system at 1,000 frames per second. This ultra slow motion demonstration features, Professional Golfer Tom Kalinowski and Gerry James, PGA Professional and Long Drive Champion. Both Tom and Gerry will be at the convention to demonstrate live as well. They will demonstrate how the Golfers Power Drive help's golfers control their lower body movement to ensure a mechanically correct and powerful golf swing.
All Power Drive Performance web sites utilize slow motion video for teaching. The Pitchers Power Drive includes professional pitcher Drew Storen, Washington Nationals closer. The Softball Power Drive site features Amanda Scarborough, two-time All American at Texas A&M, now Fastpitch professional trainer and ESPN Softball analyst. The Hitters Power Drive site includes Alan Cockrell, Arizona Diamondbacks hitting coordinator. This ultra slow motion video demonstrate that great athletes play sports from the ground up using ground reaction force to generate stabilization and power, said Miller. The 1,000 frames per second video show professional swings and pitching on four different Power Drive Performance training aids which will be displayed on a large screen during the PGA Merchandise Show.
The GOLFER'S POWER DRIVE TRAINING AID teaches golfers to get their lower body initiated into the golf swing with a stabilized back leg and foot. Once you have learned to stabilize the lower body on the backswing, the power drive can then be used to work on the downswing. When done properly, the GOLFER'S POWER DRIVE standing plate produces an audible "CLICK" on the lower front side plate. This auditory sound and kinetic feel provides a multisensory teaching aid that trains the golfer's muscle memory and increases their skills.
Power Drive Performance multisensory training aids introduced four years ago in January 2009, are already used by 21 Major League Baseball teams and over 500 college sport teams. Learning created by the auditory click and kinetic feel has provided great success with the highest level athletes. For more information about Golfers Power Drive visit http://www.golferspowerdrive.com
Power Drive Performance is based in Holliston, Massachusetts. They are the developer of the US patented Pitchers Power Drive Professional / Collegiate model, the Pitchers Power Drive Youth model, Softball Power Drive, Hitters Power Drive and Golfers Power Drive. The design of the Power Drive training aids come from their extensive experience working with and training pitchers and hitters at the Winning Pitchers Academy. To learn more about Power Drive Performance go to http://www.powerdriveperfromance.com