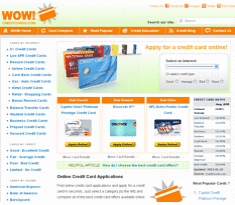 "An overhaul was long overdue..."
(PRWEB) January 22, 2013
A popular destination for credit card comparison shoppers for nearly a decade, WOW! Credit Cards.com is announcing a major overhaul to their brand.
Established in 2004, WOW! Credit Cards.com provides detailed credit card information and comparison charts to help consumers compare credit card offers and apply online. The overhaul includes an attractive new logo, a newly designed website and a variety of helpful new tools and interactive features.
The new website features an bright new color scheme and improved navigation, allowing visitors to easily choose from a wide selection of credit card offers. Visitors can limit their choices by personal interest, by credit history or by credit card issuer.
To further simplify the process, visitors can then select specific credit card offers and compare them side-by-side with the new 'Card Compare Tool.' Rather than scrolling back-and-forth between dozens of different offers, visitors can select all of their favorite credit cards, then view them together (on one page) so they can easily compare features.
In addition to providing detailed credit card information and comparison tools, the new WOW! Credit Cards website also tracks popularity data and shares the 'Most Popular' credit card offers with visitors. This new feature allows people to see which offers are receiving the most interest by other visitors, which can also help in the decision making process.
"An overhaul was long overdue," said Jeremy Panizzoli, founder of WOW!CreditCards.com. "The credit card market has become extremely competitive over the last 10 years and we needed to update our brand and set ourselves apart from the competition. I think this re-design does that - and we have many exciting new plans for the future."
The new WOW! Credit Cards website was designed to simplify the credit card comparison process. To learn more about it's updated tools and features, visit WOW! Credit Cards at http://www.wowcreditcards.com