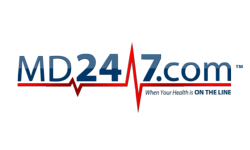 MD247 Reviews Influenza.
Tampa Florida (PRWEB) January 21, 2013
In an effort to allay fears and the spread of false information regarding influenza, MD247 issued an alert to all telemedicine program members in Los Angeles on Sunday. The health alert covered influenza symptoms, the concept of feeling both ill and uncertain as well as a helpful "when to talk to a doctor" set of guidelines that any person could easily follow.
MD247 explained that a fever generally lasts three to five days, and it can run as high as 104° in children who are ill. In adults, it is not atypical for the fever to run lower during the early morning hours and it reaches its peak in the later afternoon or early evening.
The resource for supplemental healthcare knowledge went on to explain that those who are suffering the symptoms of the flu will often develop a cough that starts as dry and hacking, but it progresses to wet and thick at roughly the third day of the illness. The cough is a major symptom in influenza, and it can be quite serious if it is allowed to develop unchecked in children. Anyone suffering from the symptoms of the flu needs to keep in mind that the cough can get worse between days four and seven, and it can ultimately last upward of two weeks. Anyone who smokes is in particular danger of getting either pneumonia or bronchitis.
The supplemental medical alert continued by fleshing-out the subjects of exhaustion, body aches and a severely scratchy throat.
The supplemental electronic healthcare provider closed with a reminder that influenza is the most contagious in the first five to seven days from the onset of a fever, and encouraged members experiencing flu symptoms in Los Angeles to talk to a doctor.
Largo Florida based MD247.COM (MD247; MD/247; MD 247; M.D.247; MD-247) provides an affordable telemedicine supplement to existing healthcare services. MD247.COM telemedicine program members have unlimited telephone access to a nationwide medical support team, all with just a single phone call to the MD247.COM telemedicine Talk to a Doctor in Los Angeles/Talk to a Nurse Hotline. MD247.COM has a virtual platoon of registered nurses; board certified physicians and a support staff available to members for all non-emergency situations. More information about MD247.COM is available online at http://www.md247.com.