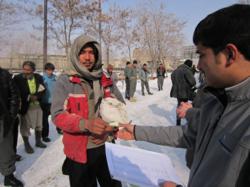 The bulk of the work and credit really goes to our local team, who really hit this one out of the park.
Kabul, Afghanistan (PRWEB) January 23, 2013
Global logistics and security consulting company Atmospherics Unlimited successfully distributed more than 3 tons of food supplies to needy families in Kabul last week. Leveraging their specialized information, transportation, and project facilitation competencies, the Atmospherics Unlimited team was able to distribute thirty food-insecure families with crucial supplies in less than an hour's time. From conception to delivery, the entire operation was completed in 72 hours.
Because winter in Kabul is a particularly difficult time of the year for the city's most vulnerable residents, many large aid organizations (as well as the Afghanistan government) provide food and clothing distribution to the country's displaced citizens in camps outside the city. As part of a local facilitation company that strives to contribute positively to communities it's a part of, the AU team saw an opportunity to aid a vulnerable population in a neighborhood near the company's local offices in Kabul on the outskirts of the city, where communities lack the most basic of services.
"While our efforts were modest in comparison to the larger organizations that operate here in Afghanistan, we still feel a responsibility to look after our neighbors in our corner of the city," said Shem Klimiuk, President of Atmospherics Unlimited. "The event was a complete success. The bulk of the work and credit really goes to our local team, who really hit this one out of the park."
To accomplish the successful food drop, the AU team conducted a survey in an isolated and impoverished neighborhood with the assistance of the community's elders. They identified 30 at-risk families for food insecurity, all of whom included widowed women, small children, disabled, and/or elderly family members.
AU staff members then issued the head of each household a food voucher as well as a location, date, and time where they could redeem their voucher. A few days later, with assistance from the Afghan National Police (ANP) from Kabul's District 7, Atmospherics Unlimited staff members were able to distribute the food quickly and efficiently to the assembled families.
With many years' experience in sourcing information directly from the field, Atmospherics Unlimited has developed an extensive network of local and international field operators. Using a trusted team of local and international staff members, the company has helped clients across a variety of industries operate safely in volatile environments.
For more information regarding the security consulting services of Atmospherics Unlimited, please visit: http://www.atmoshpericsunlimited.com
About Atmospherics Unlimited
Atmospherics Unlimited is a global risk management and security consulting company, helping clients operate effectively in the most austere, remote, and hostile environments. In addition to local field offices in Kabul, Afghanistan, the company also operates in locations across the Middle East and Africa. Atmospherics Unlimited team members have advised clients in combat zones, assisted with peacekeeping and reconstruction efforts, and supported a number of commercial ventures.