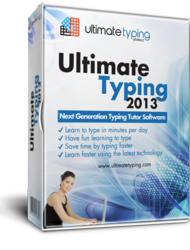 Ultimate Typing™ integrates two new technologies which make it stand out from the competition: the EasyLearn™ and Adaptive Learning™ technologies.
New York City, NY (PRWEB) January 28, 2013
Recently released typing software Ultimate Typing™ proves that typing beginners can learn to type automatically with just 2 weeks of practice with the software. Ultimate Typing™ is the latest software package by leading software company eReflect. Ultimate Typing™ uses cutting-edge technologies to make it possible for anyone to improve their typing skills quickly and effortlessly.
Ultimate Typing™ integrates two new technologies which make it stand out from the competition: the EasyLearn™ and Adaptive Learning™ technologies. The EasyLearn™ technology is responsible for providing the typing learner clear and easy to follow video instructions. Through well-structured video tutorials the user is given all necessary information for efficient practicing. This technology ensures that the users are able to make the most of the software's over 600 exercises and drills. Knowing how to properly make use of the exercises and activities that Ultimate Typing™ offers means that the learner will be able to soon touch type automatically and accurately with the minimal amount of time expended.
The technology called Adaptive Learning™ steps in to reinforce the work of the EasyLearn™ feature. With this technology the software provides exercises and activities that match the learner's typing needs and goals. This is achieved by monitoring the typing performance of the users and then recommending exercises that match their specific typing level. By practicing with exercises that are relevant to the their own needs, users will find they are quickly able to learn to automatically touch type. Unlike conventional typing tutors, Ultimate Typing™ makes it possible to learn to automatically touch type in as little as two weeks time.
The software developers put a lot of effort and expertise in creating exercises that are scientifically designed to be highly efficient in improving touch typing skills. The exercises teach the learner how to touch type automatically through a simple but highly effective strategy, by providing exercises that first focus on accuracy and then on building typing speed. In this manner, the learner is able to integrate automatic touch typing into their skill set before looking into ways to increase their typing speed.
For more details on Ultimate Typing™ and how it can improve your typing speed and accuracy please visit http://www.ultimatetyping.com/.
About Ultimate Typing™
Ultimate Typing™ software is designed specifically for the improvement of typing skills. Created by eReflect, a world leader in e-learning and self-development software, Ultimate Typing™ has been informed by the latest developments in the science of touch typing.
Since its creation in 2006 by Marc Slater, the company has already catered to over 112 countries all over the world, offering products with the latest cutting-edge technology, some of which are among the world's most recognized and awarded in the industry.