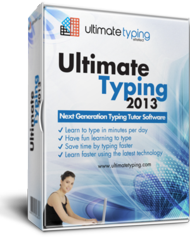 The integrated mini courses are scientifically designed so as to maximize the typing potential of all users, no matter their typing level.
New York City, NY (PRWEB) January 30, 2013
Recently launched typing software Ultimate Typing™ has already been the subject matter of typing software reviews which are impressed by its cutting-edge features. The integrated mini courses are one of the most talked-about features of the software.
Ultimate Typing™ has been carefully developed, as an examination of its features reveals. The software has seamlessly combined video tutorials and typing exercises, making touch typing easy to understand and practice. Ultimate Typing™ has what's called an EasyLearn™ technology, which is a high-quality collection of intuitive video tutorials that reveal the secrets and tips of successful typing. But what seems to get mentioned in most typing software reviews of Ultimate Typing™ is its built-in mini courses.
The integrated mini courses are scientifically designed so as to maximize the typing potential of all users, no matter their typing level. The mini training courses offer engaging and highly efficient exercises and drills which, with just 7 minutes of practicing a day, allow even a typing beginner to significantly improve their typing in just two weeks.
The mini courses are so effective in improving users' typing speed and accuracy because the rely on particularization; each mini course specializes in a single aspect of typing. For instance, one mini course solely focuses on typing punctuation characters, while another mini course concentrates on improving accuracy. Other mini courses are concerned with improving the automatic and unconscious skill of touch typing, while still others focus on increasing the words-per-minute speed record of the user.
Apart from each mini course focusing on just one aspect of typing, the mini courses have another unique characteristic: they're personalized. Customization is something not many other typing tutor software systems have – in fact, Ultimate Typing™ is a pioneer in this aspect as it provides learners with tailor-made exercises ensuring that the learner will not waste their time on irrelevant practice sessions. Individualized training also ensures that users will be motivated to spend time practicing. Thanks to its Adaptive Learning™ technology, users are given personalized mini courses that always match their typing requirements and preset goals.
For more details on Ultimate Typing, visit http://www.ultimatetyping.com/.
About Ultimate Typing™
Ultimate Typing™ software is designed specifically for the improvement of typing skills. Created by eReflect, a world leader in e-learning and self-development software, Ultimate Typing™ has been informed by the latest developments in the science of touch typing.
Since its creation in 2006 by Marc Slater, the company has already catered to over 112 countries all over the world, offering products with the latest cutting-edge technology, some of which are among the world's most recognized and awarded in the industry.