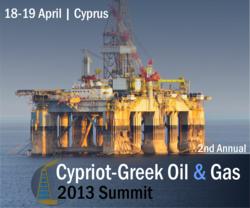 It's an IRN Summit!
Limassol, Cyprus (PRWEB UK) 21 January 2013
IRN, global summits organiser, is hosting the 2nd Annual Cypriot-Greek Oil and Gas Summit on 18th and 19th April in Limassol, Cyprus.
At last year's inaugural summit the Cypriot Minister of Commerce, Industry and Tourism, Neoklis Silikiotis, exclusively announced for the first time the government's plans about the establishment of KRETYK, the state hydrocarbons company. This year, major industry players will be gathering once again at the Cypriot-Greek Oil and Gas Summit right after the end of the 2nd licensing round, while negotiations with ENI, Total and KOGAS are taking place.
The Greek Ministry of Environment, Energy and Climate Change is confirmed to attend the summit and will be sharing, for the first time, their experiences of the seismic acquisition process. The presentation will cover detail around how the Ministry worked along with PGS in applying the most modern methods of seismic scanning in offshore Greece.
This summit will provide a networking platform for decision makers of the previous, current and upcoming developments in the area, welcoming key players such as the European Parliament, Cyprus Energy Regulatory Authority, Hellenic Petroleum S.A, Investment Bank of Greece, Ministry of Commerce, Industry and Tourism, Cyprus, Aker Solutions, Adira Energy, DESFA and many others.
For more information visit http://www.cgogsummit.com, or contact IRN on +44 207 111 1615.