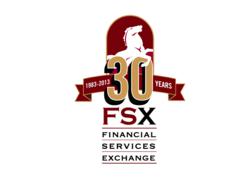 Dallas, Texas (PRWEB) January 21, 2013
Financial Services Exchange (FSX), the premier investment conference organization in the United States is celebrating their 30th Anniversary in July of this year at the Ritz-Carlton Hotel in Fort Lauderdale. Since the beginning of the year they have been announcing new benefits for its members and presenting companies. Most recently FSX's Executive Director, Judy Ensweiler, announced that from now until their July Investment Conference , starting with their Dallas Conference, every time a member hosts a presenting company*, their name will be placed in a drawing, as well as presenting company's name. The drawing will take place during their July event. The winner of the drawing will receive an all-inclusive 8 day 7 night stay for two at one of the fabulous Palace Resorts. FSX will also have airline ticket drawings, and many other surprises.
Ensweiler explained that participating is very simple. "It is simple, host a company, or register your company to make a presentation at one of our next three events and you could be jetting off to some wonderful destination! The more companies you host, the greater your chances of winning!" said Ensweiler, explaining that there is a one entry cap for every company hosted or company that presents during the FSX 30 year celebration. She indicated that space is limited for the upcoming Investment Conference to be held in Dallas from February 7-9 and invited companies to register at the FSX website before all spots are taken.
FSX holds investment conferences four times a year in a different major U.S city where Emerging Growth companies connect with a nationwide network of financial investment professionals. FSX brings the CEOs and Executive Officers of the Presenting Companies together with the Principals and key decision makers of the Broker/Dealers and other financial firms; providing a forum where Presenting Company CEOs seeking capital and/or market support can go to showcase their companies in a dedicated environment that is conducive to networking and building financial relationships. Billions of dollars have been raised for companies at FSX Investment Conferences.
About FSX
FSX is one of the most reputable and established national alliances in the country for the independent broker/dealer network, providing education and opportunity. At each FSX conference, we bring the CEOs and executive officers of the presenting companies together with the principals and key decision makers. For more information, visit http://www.fsxone.com