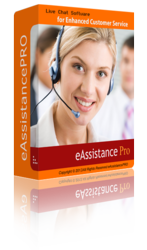 Noida, India (PRWEB) January 22, 2013
No more wait, no more hefty call charges, eAssistance Pro allows website visitors to instantly get connected and initiate a meaningful chat session. The company upholds this software as a perfect solution benefiting both consumers and online businesses. It is an online live chat solution with intelligent visitor tracking tools, real-time monitoring, traffic analysis, and other options for experiencing state-of-the-art solutions.
eAssistance Pro has been developed after rigorous research and offers extensive features to outsmart all other contemporary chat solutions. It has been built around keeping in mind all help required by website owners to promote their business effortlessly. Getting started with eAssistance Pro is extremely simple. Just create an online account and start experiencing the benefits. The software generates an operator and a department by default. Choose the required chat code and insert it in your WebPages. Now, one needs to download the operator console to start offering live help. Whenever visitors click for live help, the operator receives an alert and an online chat session gets initiated.
Live Chat is the most basic feature of eAssistance Pro. Apart from this, it provides complete details about all visitors on your website showing details about their geo-location, online activity, browsing trend, time spent on your site with webpage details, etc. Operators can invite visitors for chat as well. Ongoing chat sessions can be transferred and files can also be easily sent by operators to visitors. It also provides footprints of all visitors with complete reference of their history.
eAsistance Pro is fit for all kind of businesses. For those who wish to simply analyze their web traffic can also make use of this tool. Website owners using CMS like Wordpress, Joomla, or shopping sites with solutions like Big Commerce, Salesforce, etc can also easily integrate eAssistance Pro on their website using plug-ins and guided support. The company offers round-the-clock technical assistance with lots of other online help for experiencing unmatched customer service.
Free Trial and Pricing:
eAssistance Pro offers one-month trial run for all first time users. Users can create an account and start using eAssistance Pro. During the trial period, the admin cannot add operators or create new departments until they choose a subscription plan.
Pricing for the software are operator and tenure dependant. The more the number of operator account license and longer the subscription period, better are the discounts available.
Packages start as low as $7 per month for a single operator, with totally flexible and better plans offering huge discounts.
Supportability:
eAssistance Pro involves three level of interaction: the admin, operator and visitor.
Admin and visitor panels are accessible over the web through browsers. All major web browsers are supported such as Internet Explorer, Firefox, Mozilla, Google Chrome, Safari, etc.
Visitors can also use mobile platforms such as iPhone, iPad, Android devices and Blackberry devices to get connected for chat.
Operator Console is to be installed locally on systems and the requirements are:
Operating System: Windows 95, Windows 98, Windows ME, Windows NT, Windows XP, Windows Vista, Windows 7 and Windows 8
Resolution: Minimum 800 x 600 (1024 x 768 recommended)
Color: Minimum 256 colors
RAM: Minimum 32 MB free space (512 MB recommended)
HDD: 32 MB free space
About Company
eAssistance pro is being offered by Lepide Software – certified Microsoft Silver ISV Partner. It is a global provider of innovative network and audit management solutions. eAssistance Pro marks Lepide's presence in the multi-facet consumer support world. Many of Lepide products like Exchange Manager, AD Manager have been highly successful and earned laurels all around the globe. eAssistance Pro is simple in design, flawless in execution, quick to integrate, and easy to customize so that companies don't spend time in learning the tool but make the most with it instantly and effortlessly. To know more, visit http://www.eassistancepro.com/