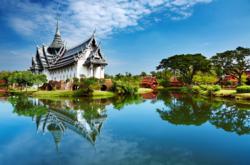 We know that what people are looking for in Bangkok are hotel discounts; so we, at DHR, have decided it is time to give them what they want
(PRWEB) January 21, 2013
Bangkok hotel bookings are in high demand nowadays. Because of some reason or another, the city managed to win the hearts of millions of people not only from Asia but from all around the world. Its natural and historical beauties as well as the exotism it inspires to foreign tourists have made Thailand's capital a must-see among holiday lovers.
DHR has recently announced that those looking for Bangkok discount hotel can easily access their website and find the best deals from hotels all around the city. 'Finding a discount on Bangkok hotels is not difficult', says DHR Business Development Manager Meltem Balkan 'what is difficult is finding a spare room on a hotel which has discount rates. Bangkok hotel prices vary from very cheap to very expensive, but generally the local tourism is flourishing regardless of price. Of course, we know that what people are looking for in Bangkok are hotel discounts; so we, at DHR, have decided it is time to give them what they want'.
This time of year this destination is in high demand because it is the season when the weather is mild, making it a pleasure to visit the city. Some of the main points of interest are temples (Wat Pho, Wat Arun) and ancient heritage. But for those who are looking for some wild nightlife or elegant restaurants, the city doesn't fail to lift up to their expectations.
Some of the hotels that enjoy great popularity and trust from tourists are listed on the DHR official website include:

President Solitaire Hotel
Dusit Thani Hotel
Vaboir Lodge Royal Suite Hotel
'When it comes to accommodation, Bangkok hotel rates will please every customer', says DHR Business Development Manager. 'I say that if you take advantage of our discounts, you are sure to get a good price even on some exclusive hotels. I say that the only problem you will have in this city is not the price, but the time – you will never have enough time to taste everything there is to taste and to see everything that is to be seen'.
She continues saying that, 'At DHR we do everything in our powers to make sure that our visitors get the best deals on exotic destinations such as Bangkok – mainly because there are lots of people who don't even dream about being able to tick Bangkok off their destinations list. With these discounts we are trying to help them achieve their dreams.'
DHR strives to offer the best deals to its visitors and customers. People who want to visit Bangkok can access DHR's official website and search for details. Other touristic destinations are also available. For more information visit http://www.dhr.com/