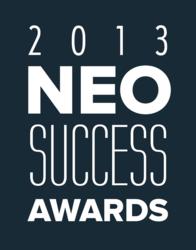 Boardman, Ohio (PRWEB) January 22, 2013
Cogistix is proud to announce we have been selected as a 2013 NEO Success Award winner. The NEO Success Awards program recognizes the top-performing companies in Northeast Ohio, measuring multi-faceted success in sales, growth, and profitability. "We are honored to be awarded the NEO Success award. Cogistix has experienced tremendous growth and we are thrilled to be part of Northeast Ohio's success" states Kevin Miller, Owner and President of Cogistix.
Cogistix is on an award-winning roll, having gained 2 awards in the past 2 months. Cogistix has also been named a 2012 VAR Star by Bob Scott's Insights for accomplishments in the field of mid-market Enterprise Resource Planning (ERP) software.
NEO Success Award criteria for winners require companies that have shown growth in either revenue or number of employees over the last three years. During the past 3 years, Cogistix has demonstrated significant growth in sales, employment and profitability.
To honor all winners, Inside Business Magazine will feature a congratulatory list in their March/April 2013 issue. Additionally, an awards luncheon will be held for all winners on Thursday, March 21st at Landerhaven in Mayfield Heights (Cleveland), Ohio. Several Cogistix employees will be present to accept the award.
About NEO Success Awards
Established in 1995, NEO Success Awards annually give the spotlight to the success of regional businesses, showing the regions' "determination to expand and revitalize its economic status". For more information on the NEO Success Awards, visit ibmag.com/neosuccess.
About Cogistix
Cogistix, a leading Gold-level SYSPRO Partner 3 years running, is focused on providing software solutions and ERP implementation services to the manufacturing and distribution industries. For more information on Cogistix, call 330-953-3937 or visit http://www.cogistix.com.