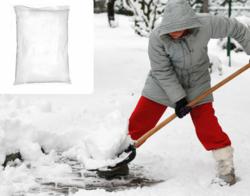 It's not too late to order rock salt for next day delivery
(PRWEB UK) 30 January 2013
The snow finally arrived over the last couple of weeks. Schools and airports were closed as well as major disruption to the road and rail networks. Many people were caught out, but yet it's so easy to prepare for bad weather by stocking up on rock salt. Even when the snow starts to melt it introduces the added danger of refreezing at night and turning to ice. Black ice is a common cause of accidents on the roads and walkways.
The price is still under £90 per tonne exclusive of VAT and including delivery for bulk bags of rock salt. It's a very cost effective way to keep everybody safe when the conditions get slippery.
Who knows if more snow and ice is on the way but there's definitely a high possibility of more freezing conditions over the next couple of months. Brown rock salt is the cheaper variety of salt and can be bought on pallets either containing pre-sealed 20kg bags or large bulk bags which are especially useful for storing in grit bins or spreading over large areas.
For people concerned about salt being walked into their business or home and ruining the carpets or floors, white salt can be bought in 20kg bags and will not leave any residue after melting.
Derbyshire Aggregates Ltd, who have a dedicated Rock Salt website always advise people to stay one step ahead. Buying brown rock salt or the cleaner white rock salt now is the ideal opportunity to stock up ready for the next big freeze. Storing in grit bins or buying the 20kg bags prevents the salt losing it's effectiveness.