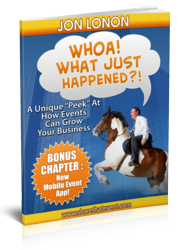 We are excited and pleased about the choice of our potential readers!
McDonough, Georgia (PRWEB) January 23, 2013
Jon Lonon, creator of Share That Event, a new Android app scheduled to release on March 12, 2013, today announced that a cover has been chosen through a public voting contest for his new eBook, Whoa! What Just Happened?!. "We are excited and pleased about the choice of our potential readers", said Jon after seeing the results of the poll.
Whoa! What Just Happened?! is a unique "peek" at the beneficial dynamics of events. In addition to his purposeful observations written while at an event, representing the original conception of this eBook, Jon also dedicates two chapters of the eBook to his personal insights about training he received on the significance of events from two highly respected top-tier network marketing mentors, Steve Carter and Teshina Pettiford.
Jon says, "I am not only excited to share high-valued information for free, I am also super-excited to bring a technology-based solution to many network marketers, small business owners, and other individuals and entities. Many of them have had challenges tracking specific events that were of interest to them while also getting others to attend their own events. Share That Event was developed because of a need to simplify announcing events internally for staff and publicly to guests. The eBook provides a brief review of the app in a bonus chapter."
eventShare was also created by Jon and serves as a secure web service portal to private and public event data for the mobile app, but there are plans to extend service accessibility to third parties.
You can request personal notification of the eBooks release, scheduled for January 30, 2013 at the Share That Event Website. As promised, all voters during the eBook Cover contest will receive early notification of the eBook's release, download it before anyone else, and also get early notification when the app is live for download!
Jon Lonon is a proud husband, father, son, and minister. His technology background, including over 25 years as a software developer, has served him well within his Internet Marketing and Network Marketing endeavors. You can visit Jon's new Network Marketing Technology Blog to find out more about Jon and other ways technology can help you advance your business.