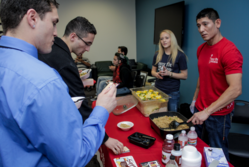 Positive events and wellness programs can really benefit a company.
Austin, TX (PRWEB) January 21, 2013
Protect America invited local businesses big and small to showcase what their business was about in their employee lounge for a wellness fair. My Fit Foods, Infinite Massage Therapy, Rogue Running, Concentra Biometric Screening, 24 Hour Fitness, Koko FitClub, and a few other businesses stopped by. Many of the companies gave free items away with invitations to join their programs.
Creating an atmosphere where you not only come to work expecting to work, but come to get something back other than just your normal pay is an awesome feeling. Many companies today are implementing programs like this and the feedback from employees is great. Not only does this increase in-house productivity, but also positively effects overall company morale.
The overall concept of every business was to promote a healthy lifestyle amongst employees. Throughout the day many people stopped by and were able to talk with these businesses to see what they could do to positively change their exercising and eating habits. The businesses gave away free samples, free trials to their gyms, and even a free massage!
"I thought the wellness fair at Protect America was pretty awesome," said Matt Houston, web developer at Protect America. "I personally have been looking into running, and think the Rogue Training Programs are a perfect fit. Not to mention I got a free meal from My Fit Foods!"
The wellness fair was a great success. Protect America plans to keep health a top priority throughout the company and is planning on having similar events for its staff in the future.
Positive events and wellness programs can really benefit a company. If you research some of the most innovative companies and best places to work, they all share the same common factors. The happiness of your employees means happiness with your customers. It's all about sharing and creating positivity around your business.
For more information about Protect America visit their website here: http://www.protectamerica.com
About Protect America, Inc.
Founded in 1992, Protect America is based in Austin, Texas and employs approximately 300 people. A pioneer of the self-install wireless home security system, Protect America provides protection against intrusion, fire, carbon monoxide, flooding, and more. Protect America also offers interactive home video surveillance and GPS vehicle tracking. Protect America is dedicated to providing reliable and affordable home security that's within the reach of any household budget.