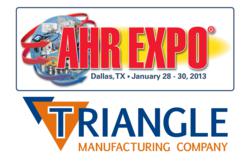 Triangle will be showcasing their HVAC prowess at Booth 3686 with product demonstrations and examples at the AHR Expo.
Oshkosh, WI (PRWEB) January 23, 2013
Triangle Manufacturing has provided components for some of the largest HVAC companies in the world for over 40 years. They're excited to showcase their innovations at the International Air-Conditioning, Heating and Refrigeration (AHR ) Expo in Dallas January 28th through the 30th. Over 33,000 buyers and 1,900 exhibiting companies from 131 countries will be in attendance at this year's AHR Expo.
Triangle will be showcasing their HVAC prowess at Booth 3686 with product demonstrations and examples. AHR Expo is one of the largest HVAC shows in the world and is a prime opportunity to meet with current customers, seek new clients and to gauge the overall health of the HVAC industry.
Triangle is eager to show off the meaning of their brand new messaging: Less Is Only More If It's Done Right. Very few companies would brag about giving you less, but Triangle knows how to solve challenges by giving using less raw material, which leads to less expensive components. They know that designing components for easy assembly equates to less labor cost and that providing seamless order integration and shipping just in time to reduces your overhead.
They'll be showcasing their completely and utterly customizable direct drive motor mounts that are "more custom with less cost." The sturdy and strong revolutionary design for heavy duty vibration suppression will appeal to HVAC OEM's of all sizes. Along with motor mounts, they'll also be displaying cushioned bearings that are "more rugged with less noise" that are static-free and shock-proof. To round out their HVAC product offerings, tri-arms will also be shown. These brackets have "more options with less handling" and fit blowers 7" to 25".
About Triangle Manufacturing
For almost a century, Oshkosh, Wisconsin's Triangle Manufacturing Company has used a foundation of experience, paired with technical know-how and advanced automation to be the leader in fully customizable metal fabrication, product innovation and invention. Triangle is an innovative manufacturer of custom and standard cushioned bearings and HVAC components. Some of the largest HVAC manufacturers and suppliers in the world rely on Triangle. Their products are used in residential and commercial air conditioning units, ventilation systems and blower fans. They work cohesively with HVAC OEM's to achieve the most durable and cost-effective design.
For more information, samples or quotes, visit us at http://www.TriangleOshkosh.com.
Contact:
Kylie McGowan
Marketing Coordinator
http://www.TriangleOshkosh.com
info(at)triangleoshkosh(dot)com